We've partnered with our good friends, local candle makers, Posie on a very special project – the creation of Pampa's very own olfactory identity. Our collaboration candle is called PAZ, meaning 'Peace' in Spanish. To communicate the character of Pampa we have developed a scent that blends cleansing Eucalyptus and earthy Palo Santo, tracing a map between the native elements of Australia and Argentina.
Palo Santo comes from the Andean indigenous Bursera Graveolens tree. This tree naturally produces an aromatic, hypoallergenic, medicinal resin that increases in concentration as it ages. This special tree lives for 4090 years. After its death, the wood matures for another 410, at which point it is then consecrated as Sacred Wood. The smell is earthy and woody, with notes of pine and uplifting citrus fruits.
Eucalyptus is a well-known Australian native that has been used for thousands of years by Indigenous Australians who made infusions with the leaves for its healing properties. It has a wonderful, fresh, healthful scent that promotes meditation and thoughtful inhalation.
Inspired by a unity of two cultures forged from the natural world that celebrates ritual and tradition, the combination of these two native ingredients makes for a scent that feels like home. The act of lighting a candle and letting yourself be washed over by this scent encourages you to experience a moment of peace and spiritual rest.
Each candle is hand-poured in small batches in Posie's Byron Bay studio, using 100% natural soy wax blended with fine fragrance and essential oils in amber glass vessels. We're offering two sizes 150g and 500g: each comes topped with a lid, making transport and travel easy.
We recently spent a fun afternoon at their studio, shooting the making of this beautiful candle and learning more about their shared love of travel, design and the simple things in life, read the interview below.
How did the two of you meet? Tell us the story of how you came to work together on Posie?
We met through mutual friends, Ash at the time lived in Melbourne and Casie was living in Sydney. We had just returned from a trip to America and Ash moved to Sydney when we had already decided we weren't finished exploring and booked to go back again.
It was whilst we were awaiting this next trip that we decided we wanted to try and relive some of those moments in the form of fragrance and scent.
We've both always loved burning candles however found it hard to find the type of blends that embraced more woody and earthy notes that we smelt amongst different landscapes on our travels, so we decided to create our own.
How did you learn to make candles? There is a bit of science to it isn't there?
It was definitely a bit of trial and error in the beginning! We taught ourselves and with practice came learning the complexities of working with various oils, waxes and the processes of candle making in different seasons. All of these elements can determine the success in making a great candle.
Where do find inspiration for your blends and what do you love about working with fragrance?
Our blends are inspired from a number of experiences, places and people in our lives. From our travels – further afar in the woods of Big Sur, California and closer to our home in Byron Bay and it's coast / hinterland. We love working with natural, green and woody notes – through experimenting we've come to use native species like lemon myrtle, eucalyptus and Australian sandalwood alongside rich cedar wood, wild flowers and a variety of herbs.
Each of our candle blends have been carefully developed to evoke a memory or moment in time. Being able to encapsulate nostalgia through the form of scent and hear stories of how our blends resonate with people who encounter Posie is what we love most about working with fragrance.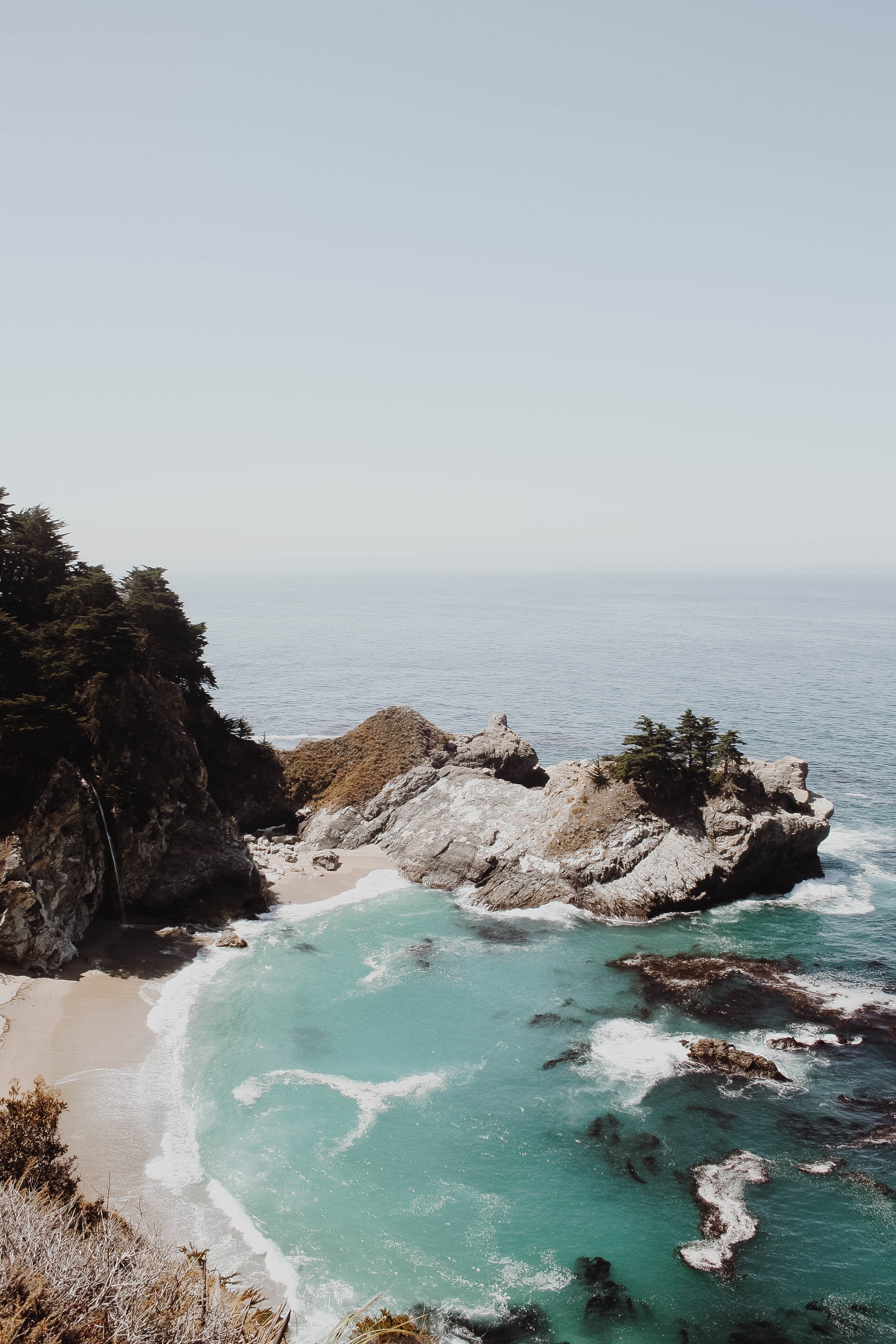 You both left the city and moved to Byron Bay, what drew you to this place? 
Casie: I moved to Sydney in my early 20's and always knew I would at some point know it would be time to leave, I knew there would be a time I would crave the open spaces and calmer life you miss out on in the city. I spent a lot of time here in Byron as a kid and love the northern rivers of NSW and southern tip of QLD's coast. I am constantly in awe of the landscape. it was always going to be the place I came home to.
Ash: I had a desire to move to Byron Bay while living in Melbourne. I grew up on the Mornington Peninsula in Victoria, and when first visted Byron it reminded me of home, minus the temperamental weather. The differentiating landscapes between the coastline and hinterland here had me sold. So by the time I moved to Sydney I was ready to leave the city and it just so happened Casie was also up for a sea change.
Can you tell us each of your personal favourite scents?
Casie: VAL which is a blend of Rose, Sandalwood and Yuzu is a special one for me and its sentiment. It is named after my Grandmother Valerie. I grew up spending my school holidays with her, quite often outside playing and helping in this amazing rose garden she tended. It brings back such vivid memories and much like this blend, I can't pass by a rose without thinking of her.
Ash: SUR – a blend of cedar wood, amber and patchouli. It was the very first blend we created and I will never forget the moment we burnt it for the first time. It took me straight back to our travels in Big Sur, California, it will always be a favourite.
From your end, what can you share with us about developing this candle with Pampa? 
Working with Pampa to develop a blend that embraces the connection between Argentinian and Australia cultures is a special collaboration we are very proud to be part of. It was important for us to make sure we stayed true to the soul of Pampa, and after a lot of experimenting we've created a scent that embodies just that. By combining the Eucalyptus tree and Palo Santo, we feel we've been able to layer blends that capture the native elements and striking landscapes of both Argentina and Australia.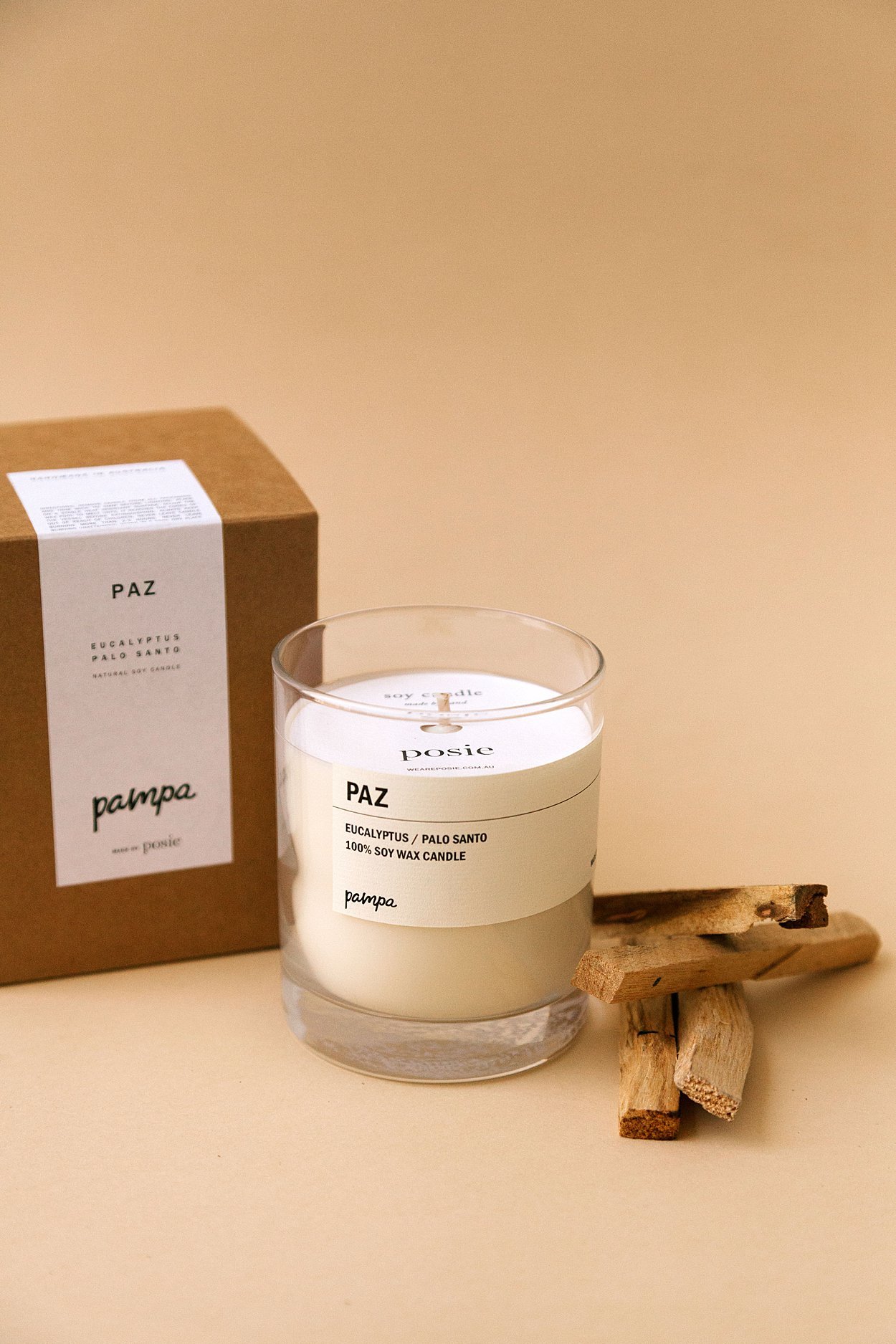 What memories or feelings does Paz evoke for you? Where do you picture burning this candle?
We've always loved exploring the ritual of burning Palo Santo, so PAZ was the type of blend we have always dreamed of creating. Personally, we feel it evokes a calming yet uplifting scent – there's something quite special about burning the combination of these native elements. PAZ transports us back to nature, and we have it burning both at home and in our studio!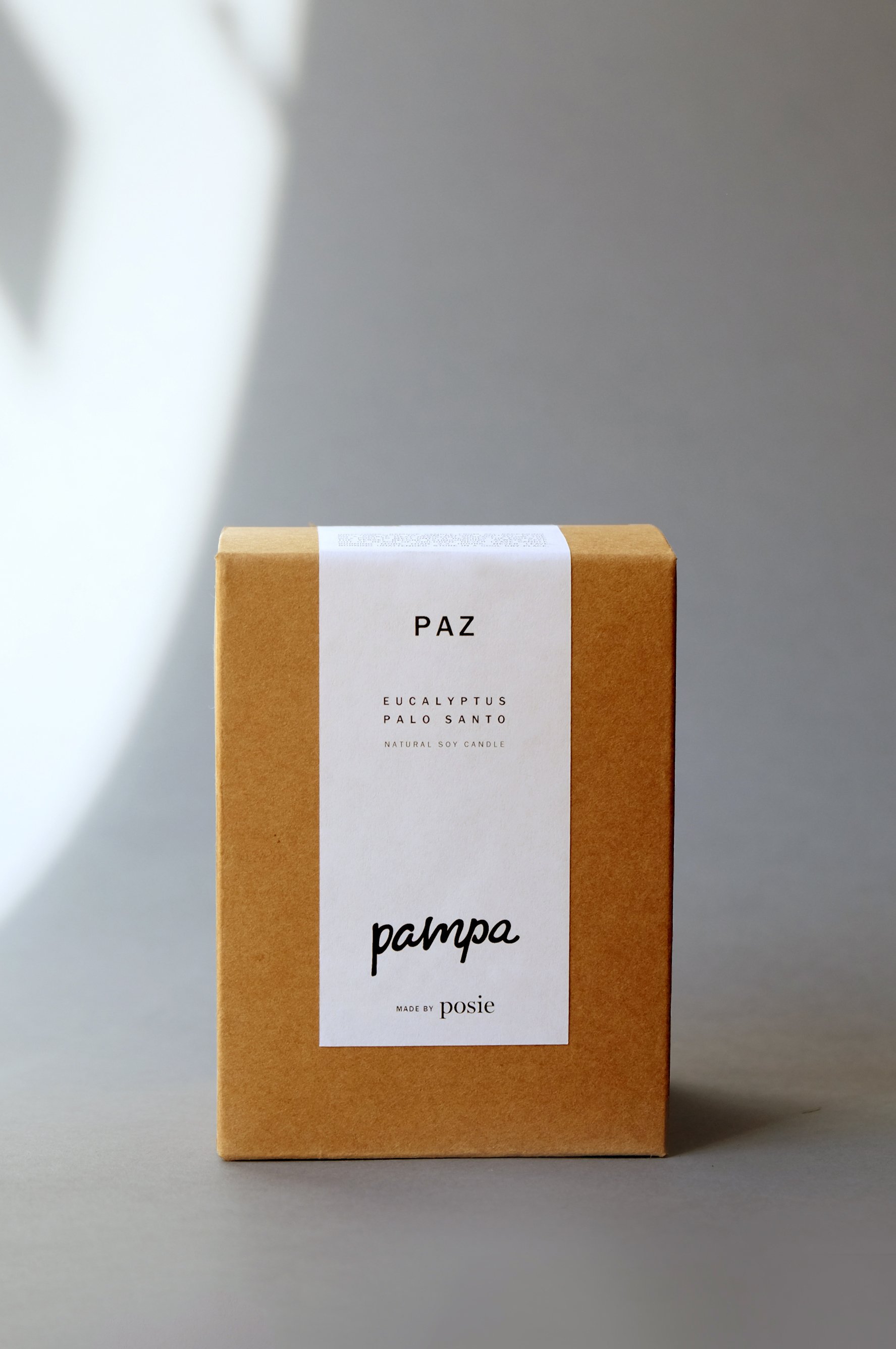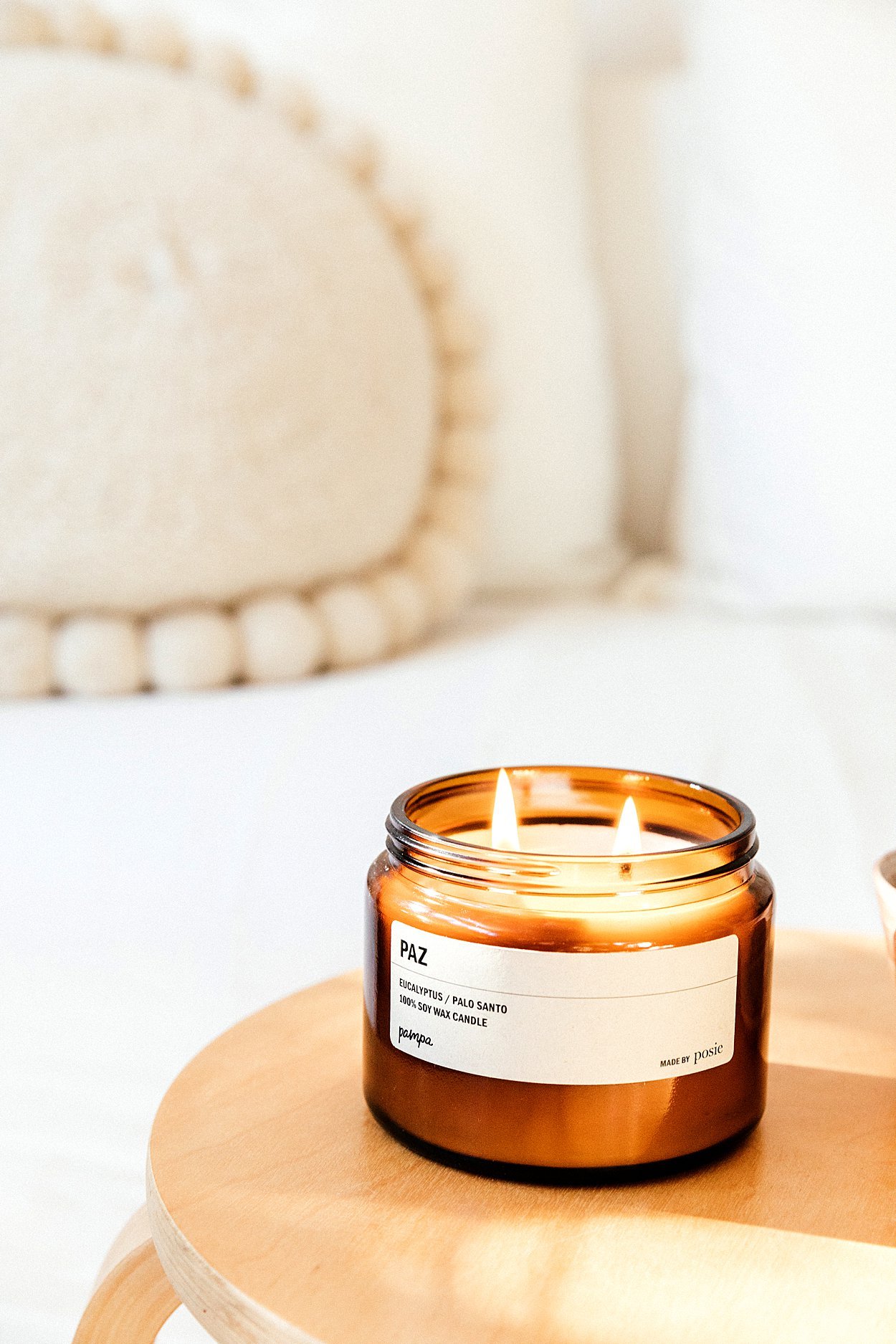 *All images & words are copyright of Pampa, for any kind of use please contact us at hello@pampa.com.au for permission.