For this Mi Casa, we sit with Leah Bradley, who shares her beachside, colourful, mid-century home in California with her college sweetheart and two children. We discuss her laidback style – inherited from her surf-loving father – motherhood, sustainability and living a full, adventurous life.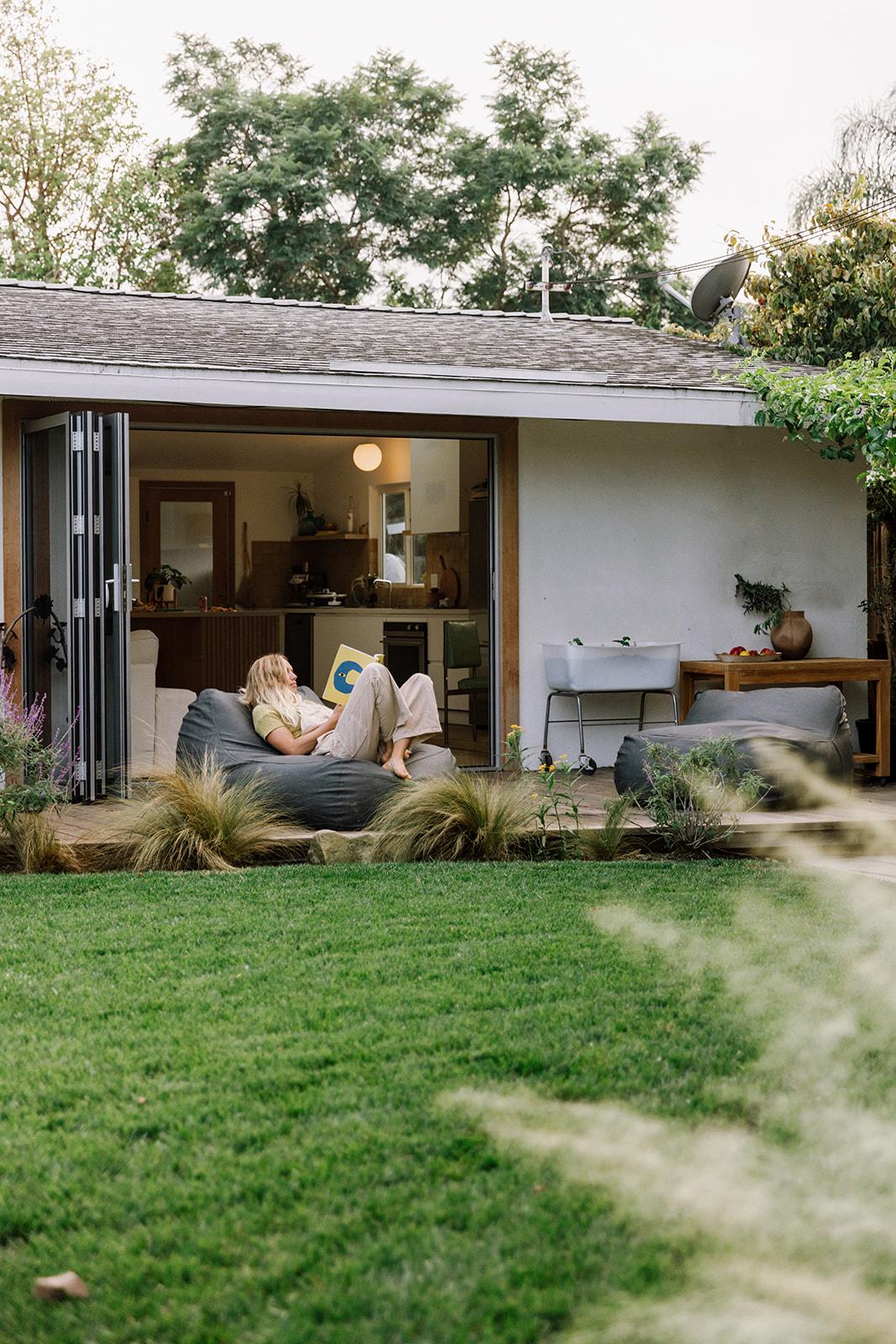 SHOP THE LOOK
1/ Eliana Made-to-Order Rug 2/ Saguaro #16 Fine Art Print 3/ Litoral Basket 4/ Plants for the People 5/ Maya Cushion | Caramel 6/ Puna Blend Throw | Natural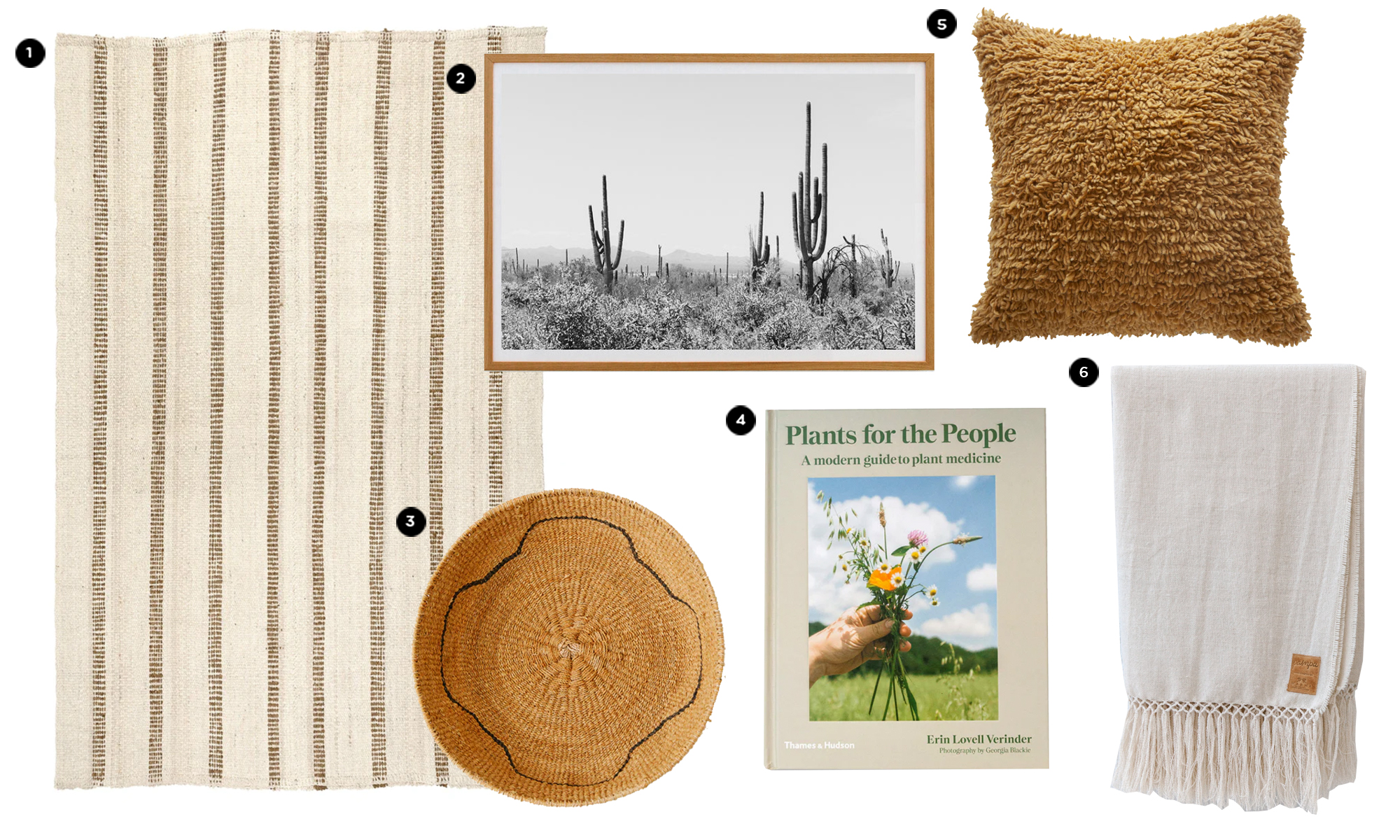 What does "home" mean to you?
It's a safe space for our whole little family. Somewhere we can be as loud and silly as we want to be and get the rest we need to live an adventurous and full life.
How would you describe the vibe of your home?
Growing up with a pro surfer dad and spending so much time on the beach, I feel our home is heavily influenced by the 70s California skate and surf culture. I love a minimal and laid-back space but have found that I need some funky pops of colours throughout. You'll find skateboards hung on the wall along with old photographs of my dad skating and even ocean relics from our surf trips down in South America. I love to think of our home as a colourful, mid-century beach home that makes everyone feel calm and relaxed the moment they step into the space.
You have a few Pampa pieces in your home; which is your favourite, and why were you drawn to Pampa?
I cannot get over how stunning the striped rug is. I love how beautifully detailed it is without having a crazy print on it. It's so soft, and you can tell a lot of time and thoughtfulness went into the design of it. Having small kids, it's essential that our rugs are comfortable for them to play and lay on, and this one is. The moment we set it in our living space, all the kids made it their favourite Lego and doll playing space!
You're working on a design project in Florida. Can you tell us a little bit about that exciting project?
Yes! My sister moved to a cute little town called Vero beach about 10 years ago, and since then, I've been travelling back and forth and absolutely fell in love with the beaches and slow pace mindset down there. The homes are full of character and sit on large lots complete with beautiful tree-lined streets. We finally decided it was time to buy a little investment property there, and it's been so much fun renovating and making it the space we love to enjoy and allowing others to share it by renting it out on Airbnb. It's a true 1950s mid-century home, so we stuck with those bones, even leaving the original bathroom tiles that are the prettiest tones of pink and green!
Describe your experience of motherhood in 3 words.
Beautiful, fun, messy.
Sustainability plays a core role in your lifestyle. What daily choices do you make to lessen your impact?
From diapers to cleaning products and beyond, we've tried to make plastic and chemical-free changes. We buy as much as we can in bulk using our reusable bags, never buy single-use plastics, recycle what we can, compost, have a thriving garden, and bike when we can! Of course, we are not perfect and always learning, but we love that we are doing it all together as a family.
What things do you rejuvenate when you have the time?
We have a cedar hot tub outback that leaves our skin feeling so incredibly soft. My quiet time is jumping in there when the kids are off to bed and getting a chance to read and relax.
Your sun-kissed family seems to draw so much from being by the ocean. How important is it to pass your respect for nature on to your children?
So important! We've instilled in them through spending so much time on the beach and at sea that we are responsible for preserving such a beautiful gift. While out on the boat my kids have seen a pod of dolphins swim directly through trash and then while walking on the beach have seen what's piled up after a rainfall. We talk about it often and never leave the sand or the ocean without stopping to pick up the trash we see. On his whale-watching boat, my brother has a pole he uses to collect trash that floats to the surface; he will always pause his trip to stop and preach the importance of keeping our ocean clean. Love that my kids have him as an example!
What are some things you enjoy most about living in California? Can you share with us some of your favourite places to go?
In my opinion, some of the most stunning beaches are right here, which is amazing. We love the coves sheltered from the wind; They are great for snorkelling, and the beaches with small waves are perfect for the kids learning to surf. There are so many young families in our specific city (Costa Mesa) and even our street, so I love that it feels like the good ole days, with the kids all out in the street playing pre dinner time! Lastly, we love the culture of the area we live in, it's very much relaxed with everyone sharing in their love for camping, surfing, skating and enjoying the amazing California weather outdoors all year round.
Photos: Amanda Sanford