For this Mi Casa, we have the pleasure of visiting the ceramic studio of French artist Beatrice Faverjon and the house she remodelled not far from her studio. We discuss how she intentionally places each object with purpose and how our surroundings truly shape us.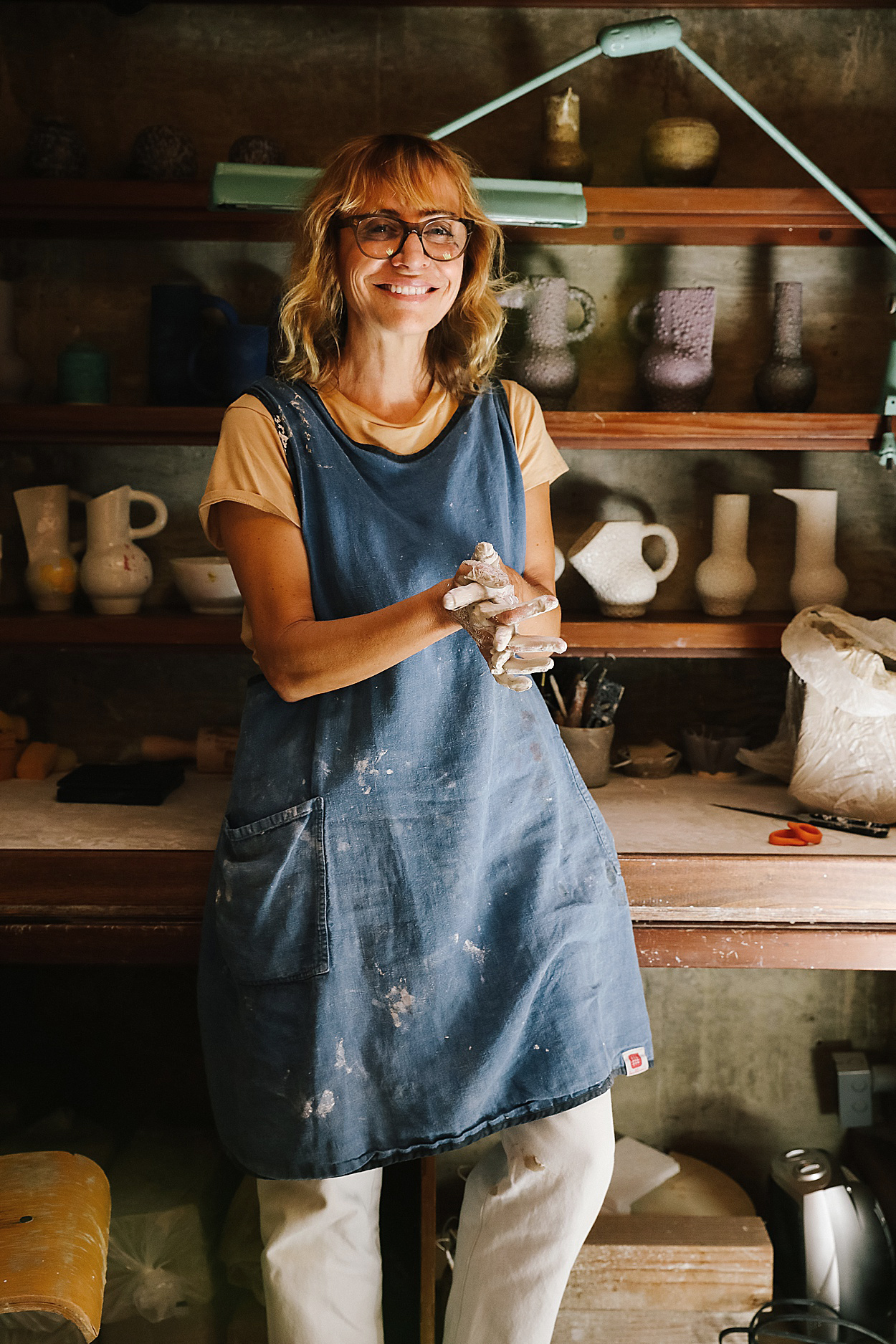 SHOP THE LOOK
1/ Forma #3 Made-to-Order Runner 2/ Eclipse #5 Fine Art Print 3/ Eclipse Cushion #1 4/ Classica Made-to-Order Rug|Natural 5/ Monte Round Made-to-Order Rug|Moss 6/ Maya Cushion|Natural 7/ Puna Llama Throw|Natural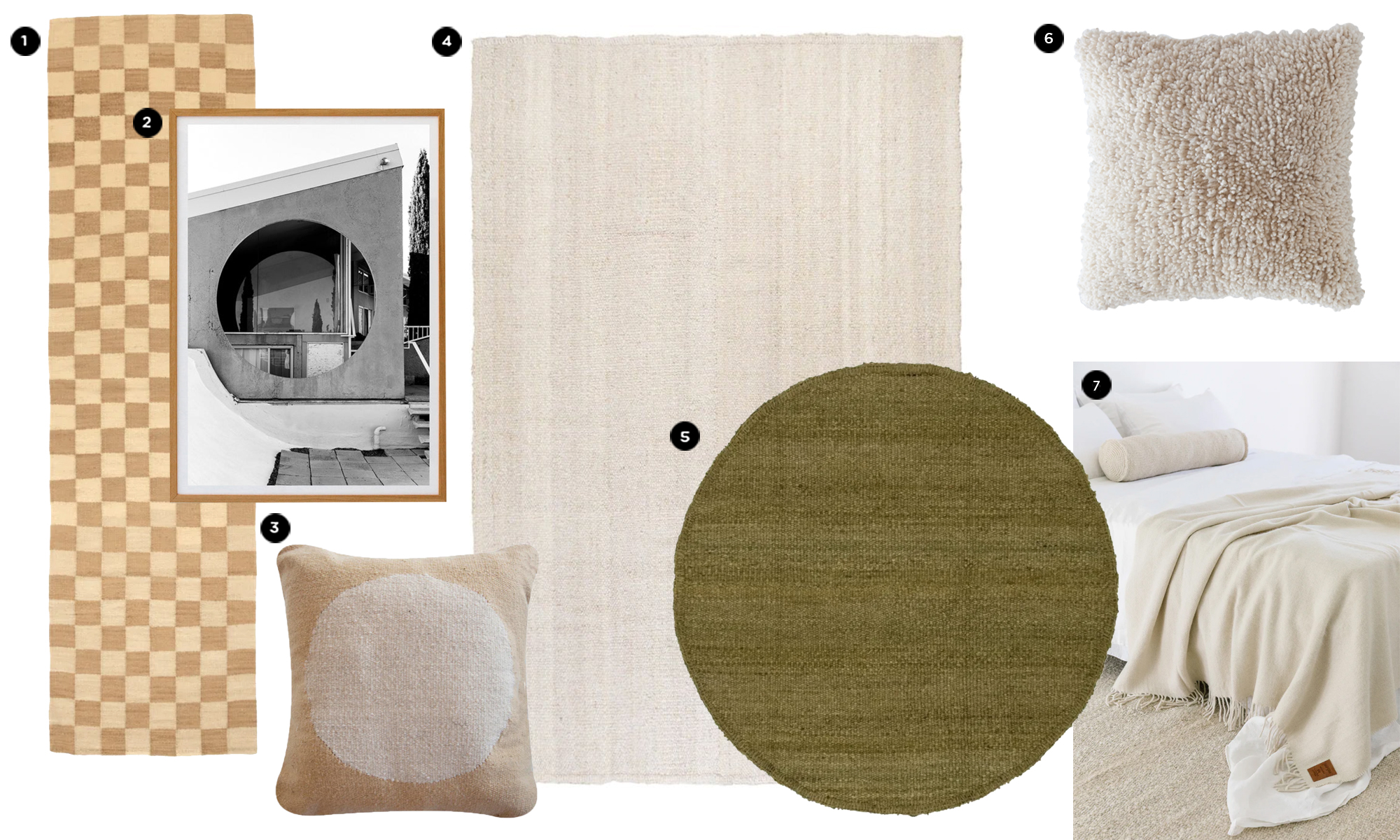 How did you land in Topanga?
It's a house that bought me to Topanga. Built in 1959 by architect Earl Wearl, the house is an exceptional example of Usonian architecture, whose craftsmanship and beauty inspire me constantly.
The first thing I notice in the morning when I open my eyes are the oak trees and the mountains through my bedroom windows;  It's like waking up in a tree house. In the evening when we sit on the balcony, we are in awe of the beauty of the clouds nestling way down the canyon. It feels like we live above the clouds. We really are surrounded by the incredible beauty and I feel very lucky to live with my family in such a special place.
I love that my ceramic studio is in my yard and that I can go surf whenever there are waves.
I also live part-time in Kauai where I just finished remodelling my house. It's a historic Hawaiian home inspired by Japanese design. It sits above Hanalei Bay and the ever-changing views with the alternation of the sun and the rain are a constant inspiration.
How would you describe the feel of your home?
My home is warm and minimalist at the same time. I don't have pieces that are only decorative, they all serve a purpose. I believe in utilitarian art, where the objects you surround yourself with are not only useful but also beautiful and unique. I feel that the objects we use daily and the houses we inhabit go beyond their utility and are an extension of us. They not only represent our aesthetics and values, but they are our core.
The way we shape our surroundings shape us in return.
This house that we photographed was fully remodelled by you, can you tell us about your experience?
A couple of years ago I drove past a house for sale. It had a very 80's look, cladded with a cheap T1-11 and painted in a sort of lavender. It was in fact pretty unattractive, but I was right away drawn to the massing of the house which reminded me of the architecture of the Sea Ranch. I bought it with the desire to keep the outside massing untouched, but fully redesign the rest of the house.
The first thing was to clad the outside with this beautiful (and fire-resistant) wood called Kayu which would enhance the incredible massing of the house. Then I worked on the inside massing and flow by moving walls, removing windows and creating new ones, and creating a lower ceiling for the kitchen to create the feel of a separate and more intimate room even though the living area was all open. The difference in ceiling heights shaped the different rooms between the living room, dining room and kitchen. The kitchen was custom-made on-site using the same wood we used to clad the inside of the house.
For the bathroom, I decided not to use any bathroom fixtures but to make ours. We framed each sink and bathtub and then cladded them in tiles.
Your ceramics honour form and materiality, where do you draw inspiration from?
I create ceramics and design homes with the desire to elevate their functionality to the level of art and to give meaning and beauty to the ordinary. These ceramics are meant to be used, and their unique design and careful craftsmanship will hopefully bring art (de vivre) to the people using them.
I always think first of the shapes, which are very precise and organic at the same time. I usually throw 3 or 4 different elements and then hand-build them together. Recently I've been living part-time in Kauai and I've been really inspired by the coral and its infinite variations in colours and texture to create my glazes. This last firing is fully inspired by it.
What drew you to Pampa?
Pampa's aesthetic with its organic feel and yet modern design fits perfectly with the house and my values. The pieces are timeless, well-crafted and beautiful.
What was the process when choosing interior pieces for your home, can you tell us your favourite piece?
I love to mix vintage pieces with beautifully designed objects and the furniture I design. My favourite piece of furniture is the latest armchair I designed made of bent plywood.
Are there any new projects on the horizon for you?
I've been working on a new house in Kauai that I finished 1 month ago. I remodelled it and I designed a lot of furniture for it. It was very fun to not only renovate the house but also create new furniture. So I'm working more and more on furniture design and I'm also back in my pottery studio after 10 months spent mostly in Kauai.
What is your favourite room and why?
My favourite room is the living room because it feels suspended above the canyon, and the incredible views change throughout the day.
Tell us about your neighbourhood in Topanga, what are some of your favourite things to do?
Topanga has a wonderful and strong community. I'm very lucky to live among people who are creative, caring and respectful of our environment.
Photos:Victoria Aguirre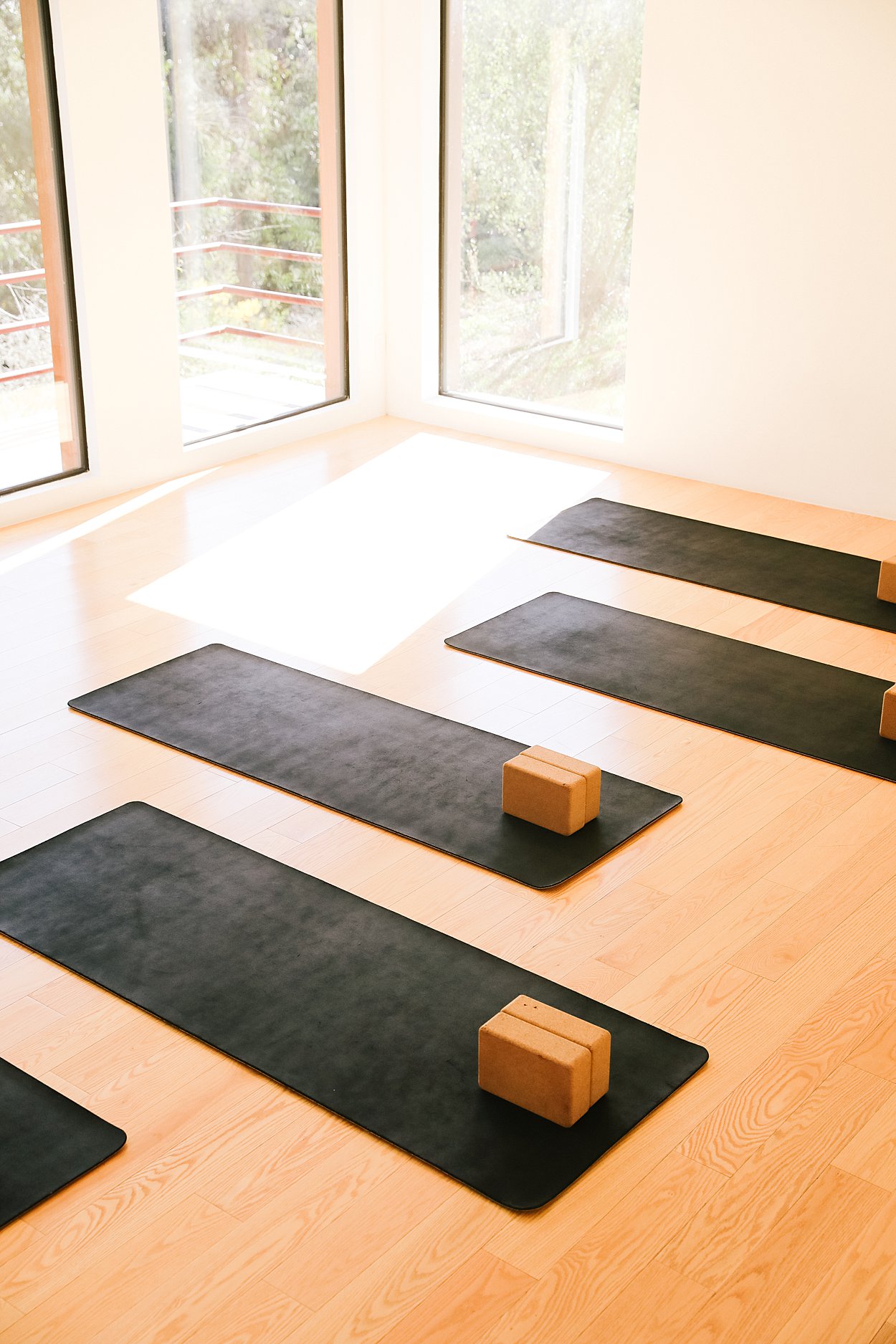 *All images & words are copyright of Pampa, for any kind of use please contact us at hello@pampa.com.au for permission.
Photos:Victoria Aguirre