Discover Wattlewood Cabin, a hidden gem nestled in the Northern Rivers, offering breathtaking views of the lighthouse and sacred Wollumbin. This rustic-inspired retreat harmoniously blends sustainability, natural beauty, and thoughtful design. The cabin's  large windows allow an abundance of natural light to fill the space, pouring the outside in. We've witnessed its journey from inception to transformation, whether you enjoy a scenic hike, bask in the tranquility of a near by river, or simply immerse yourself in the comforts of the cabin, you'll find yourself effortlessly attuned to the rhythms of nature whilst enjoying this Stay.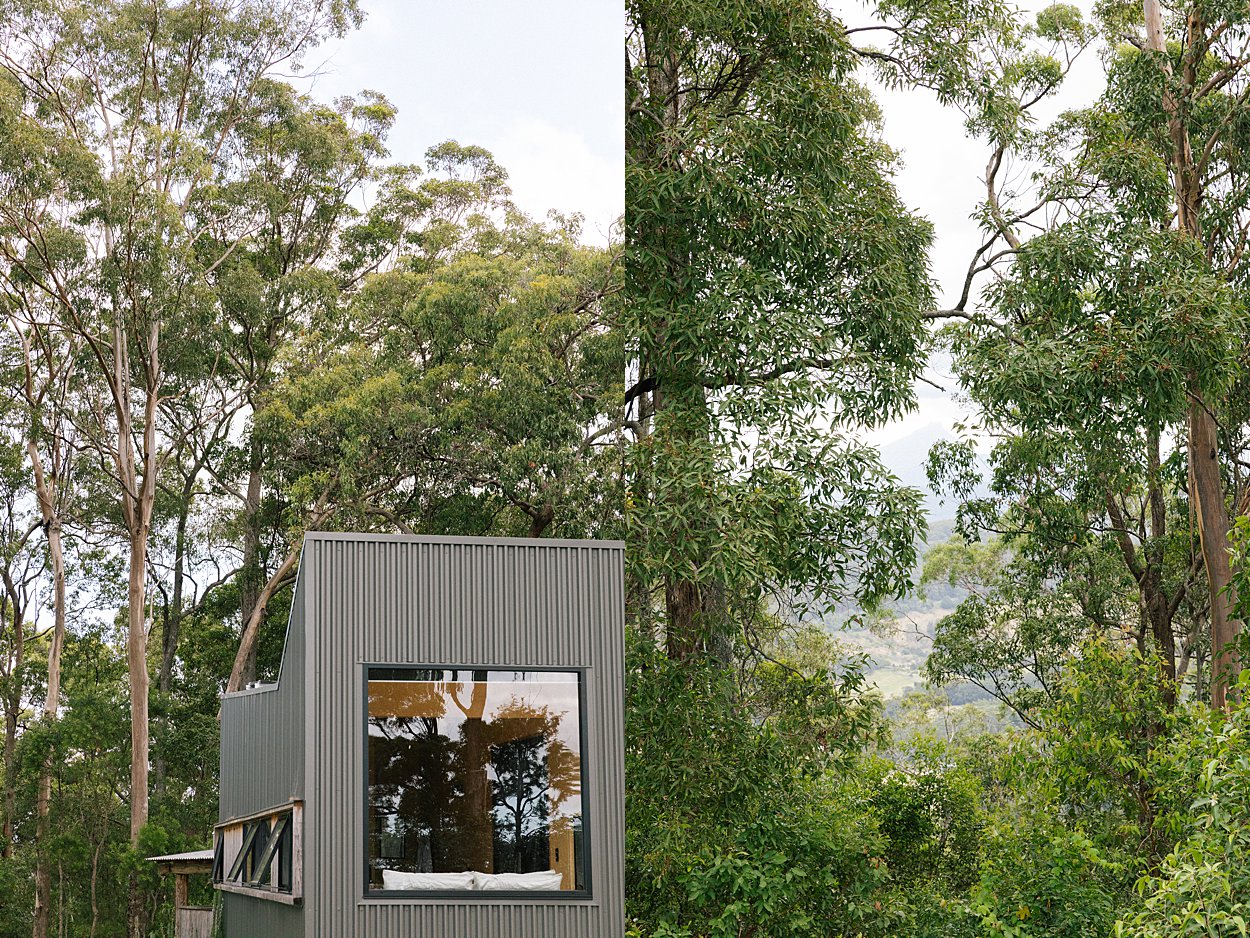 SHOP THE LOOK
1/ Sol Made-to-Order Rug|Black & Natural 2/ Andes Mini Textile #12 3/ Monte Cushion #1|Desert 4/ Australia Book 5/ Monte Cushion #20 XL Lumbar 6/ Pampa x Posie PAZ Candle 7/ Porteño Weekender Bag|Tobacco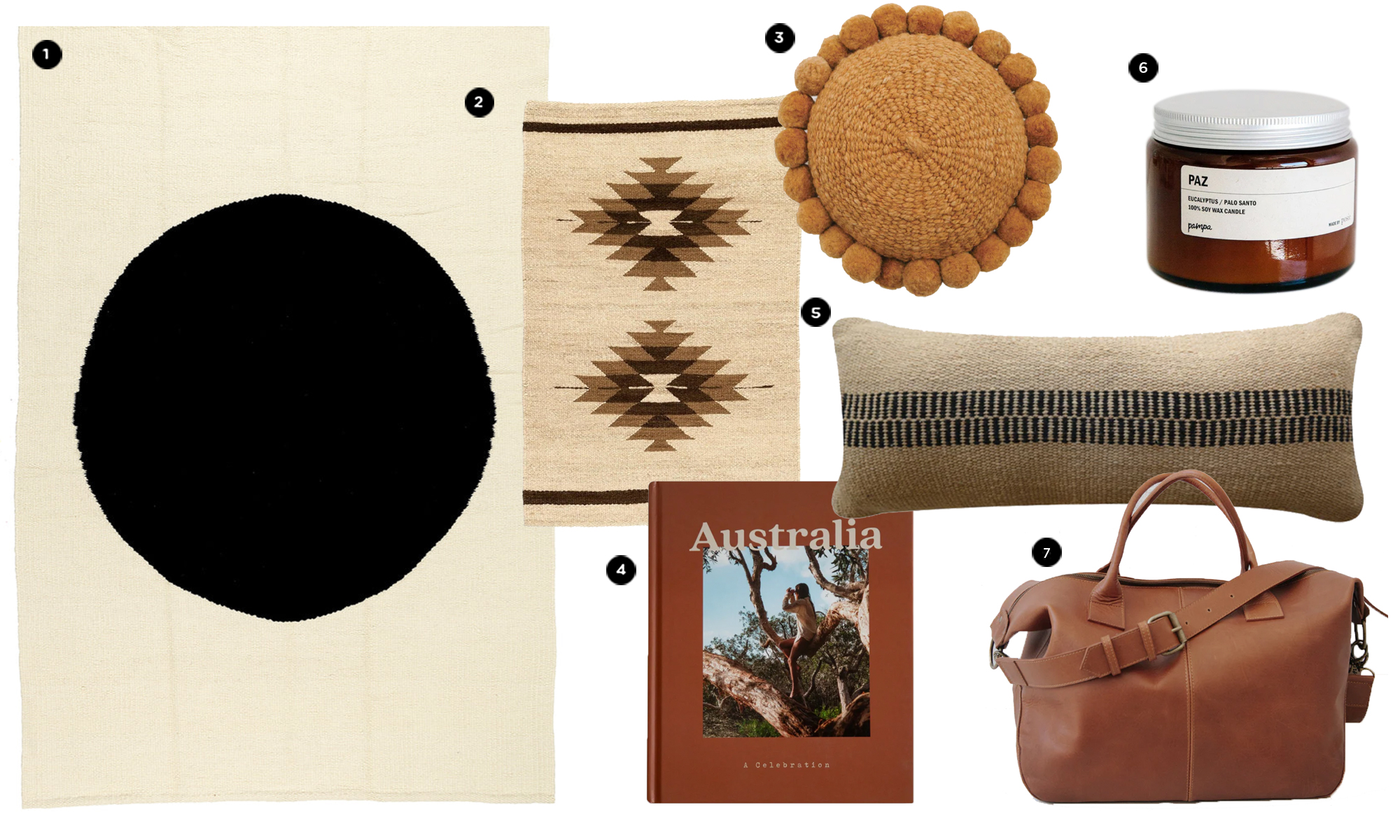 Tell us the story behind Wattlewood Cabin?
We have an incredible patch of land on our property with views in every direction- you can see down to Byron, up to the Tweed coast and Woolumbin to the west. It's far away from everything and a beautiful place to retreat. We camped up there a few times and friends camped there. It's a walk in site, so we had to think about what kind of structure would suit the land and be practical to build. We were offered a large trailer base from an old caravan, the perfect size for a tiny home cabin, and we started creating a bush retreat for everyone to enjoy.
Can you describe the surrounding natural environment and how it contributes to the overall experience of your stay?
Wattlewood has windows all around, to take in the views at all times. So even when you're inside, you are still involved in the nature surrounding the cabin. Sitting in bed you look out to the Byron lighthouse and Julian Rocks, and the tall gum trees that circle the cabin space. Lying down in bed at night you can leave the blind open and get an all night show of stars. The big glass sliding door looks out to Woolumbin and the Burringbar Range. Step out the door, and you're a part of it all. 
The place where you can really be at one with nature is the outdoor bathhouse. The huge tub can fit two, and sunset soaks and showers here are incredible. The sun setting behind Woolumbin and the range is a highlight every day. The bathhouse was lovingly hand built with timber from the property.
What drew you to the Pampa pieces you have chosen for your space?
Wattlewood Cabin is a modern, minimalist space. Everything is thought out and practical. Clear , open spaces are calming for the mind.
Pampa pieces bring warmth, comfort and luxury to the space. The Eclipse rug is the star- soft, luxurious and modern, it was the starting point when doing the interiors. 
How does Wattlewood Cabin embrace sustainable practices or eco-friendly initiatives in its design and operation?
Wattlewood is a completely off grid cabin, using solar for power and rain water. The cabin is very well insulated and lined with ply wood, no heating required inside. There is an outdoor fire pit on the eastern side for fireside fun. Having an awareness of everything being powered by your environment brings another level of connection with the land. Like camping, but way more comfy!
Wattlewood cabin supplies eco-friendly, luxury products such as Hemp Collective shampoo & conditioner bars, Fallen Leaf Herbal teas, Salus soaps, Organic Santo coffee and Loco Love chocolates.
For a first-time visitor, what would an ideal 24 hours at Wattlewood Cabin look like?
Leave work early on a Friday to arrive at Wattlewood right at 3pm, check in time! Make sure you shopped on the way with all the food and drinks you need for your stay. Once you arrive, you definitely don't want to leave.
Grab a ride from the hosts from the carpark up to the cabin and settle in. Or if you want the adventurers experience, get the hosts to take your gear up, and walk 500 meters to the cabin.
Pop the champagne, prepare your nibbles and light the fire pit, for an afternoon overlooking the beautiful Pacific Ocean. Run the bath for a sunset soak. Then cook an easy dinner on the BBQ. Perhaps then an after dinner soak? And into bed to watch the stars.
Rise with the sun, though, lay in bed as long as you wish with a stovetop coffee and watch the sunrise over the ocean. Maybe an outdoor shower to wake up and say good morning to Woolumbin. 
Lay in the sunbed, read a book, go for a wander on the bush tracks. Make friends with the local bird life and you may even spot a koala. A long lunch, maybe a nap, afternoon tea on the deck and sunset drinks all over again.
What pulled you to create something off grid?
Off grid is the only way up here, there's no other option. And we were drawn to this land because of that. To be able to live so close to nature, in harmony, requires lots of thought and planning .We find it ultimately results in us being very aware and connected to the environment. 
We love to offer that experience to our guests, if only for a little while.
Photos: Victoria Aguirre
Book your stay here