This Mi Casa is a special one, as it looks at the earthen home of photographer Kelly Brown and builder Bryce Ehrecke, who built a home from natural materials in the high desert of Yucca Valley, California. Sympathetic to its landscape, The Earth House feels so special, gentle and intentional, it's truly inspiring.
After years spent studying and practicing natural building themselves, Kelly and Bryce have now launched their new business, Cré, to share their ethos of creating meaningful shelter by connecting people to places.
We spoke with Kelly to learn more about their work and to dive deeper into their thoughtful perspectives on home building.
SHOP THE LOOK
1/ Monte #1711  2/ Monte #3 3/ Andes #1509 4/ Monte #2  5/ Terra Incense Holder 6/ Pampa Cotton Poncho 7/ Still: The Slow Home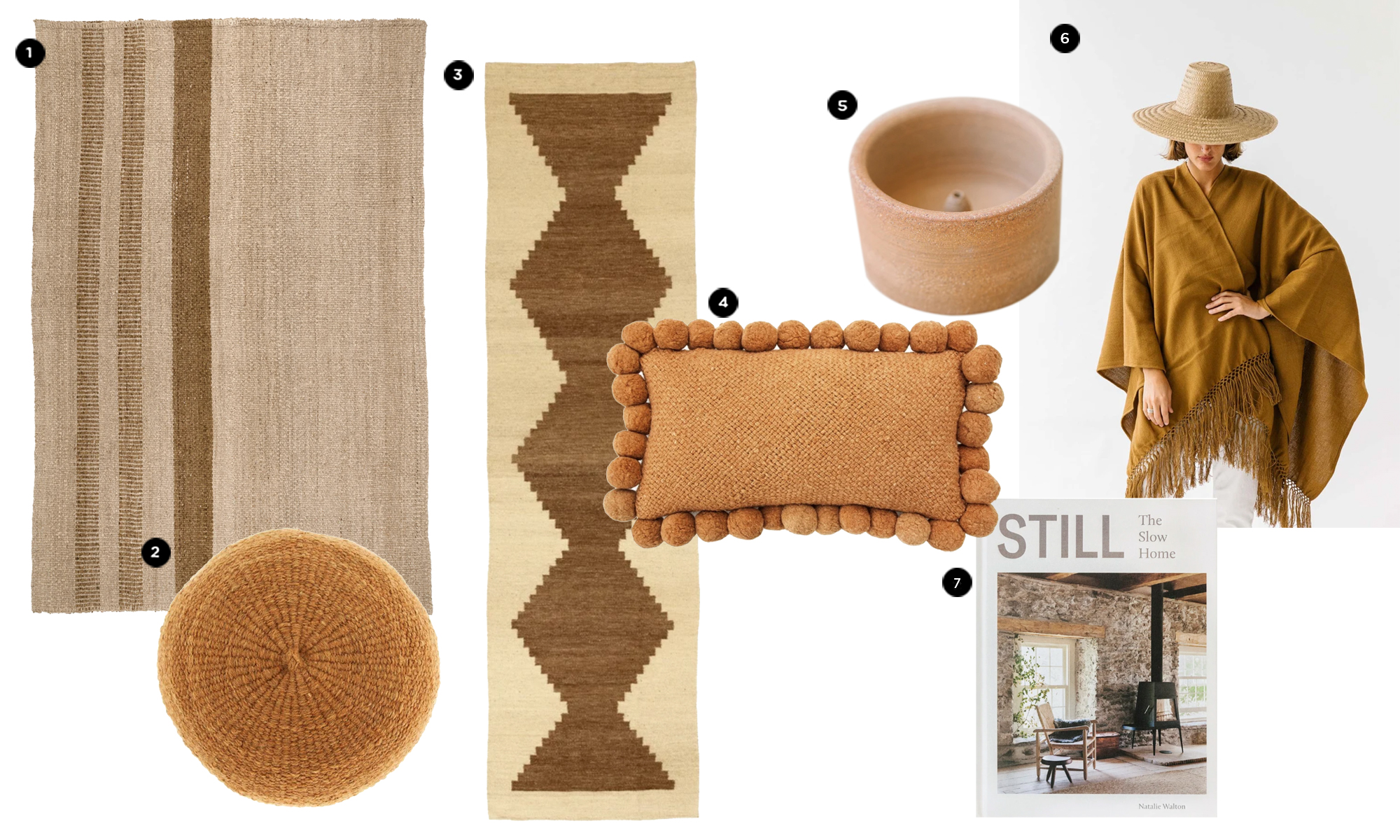 What can you tell us about your journey to Joshua Tree and building The Earth House?
We met close to Joshua Tree almost ten years ago, and it has remained a very special place to us. We've been inspired by its raw beauty, open skies and calming colours and have envisioned creating a home there that reflects the landscape. When we found the house that we ended up buying, we saw so much potential and mostly fell in love with all the boulders and native plants on the land. We knew we could renovate the indoor space to match the beauty of the outdoor space, and in doing so, Earth House was created. We used local sand and clays to create earthen plasters for the walls and spent many weekends picking through flea markets and the local Swap Meet for treasures to fill the space. Bryce built all the furniture inside with western maple, and the outdoor seating area was created with cedar and desert masonry using sand and stone from the yard. We turned an old dough trough from an antique store into our sink and brought in natural textiles and pottery. It was a labour of love, and you can really feel that in the space.
We'd love to learn more about Cré Building and your approach to natural building?
Cré is the culmination of years spent learning from other natural builders, our own experimentation, traditional ecological knowledge and forming a relationship with materials from many different environments. We let the materials that are available from the immediate environment determine and inspire how we build both structurally and aesthetically.
Tell us about your ethos of "creating meaningful shelter by connecting people to place."
There is so much disconnect in our world between how spaces are made and the materials used to make them and the harm that it creates. It's easy to go to the store and load up materials without thinking of where they came from and how they were extracted or produced. We try to focus on increasing people's awareness of the materials that are available locally and how they can be reconfigured to create meaningful shelter that is suited to its environment. We believe homes should be a reflection of the land, which is also our home.
How would you describe the style of your home?
The style of the home is a continuation of the landscape. Warm, inviting, earthen, tonal, minimal yet comfortable with lots of handcrafted elements.
What do you love most about your home?
I love that it is a true reflection of us and the area. Building and designing the entire space ourselves within a short window of time was very challenging which also made it very rewarding. Our home feels deeply peaceful, kind of like a long exhale.
We love the Pampa pieces you have chosen for your home, what drew you to Pampa?
We wanted to make sure that everything we brought into our space was created with the same kind of care that it took to build our home.  We were really drawn to Pampa's ethos, craftsmanship and the natural materials and aesthetic they have. As a weaver myself, I am really drawn to handwoven pieces and I find that Pampa's woven rugs, blankets and pillows coordinate with the type of weavings I create as well.
What are you feeling inspired by at the moment?
Currently, we've been inspired by our son, Way. Watching him take in the world adds a layer of beauty and appreciation to even the simplest things. It also ignites a recommitment to live in a way that reduces harm while fully embracing all of the wonder and magic of the world around us.
You live between Vancouver Island and Joshua Tree; what is it like living between these two special places?
The subtleties, vastness and raw beauty of the desert, along with the fluid, dense and vibrant nature of the island, is a very lucky balance to live between. Each environment has so much to teach us and so much to offer. Learning to live, build and adapt within these two places has been a great experience.
What's next for you guys?
Lately, we've been spending a lot of time with our son, truly soaking in these early days with him as our reality and family shifts in such a beautiful and all-encompassing way. We are also getting ready to renovate the rest of our home. Earth House was done so we had a small space to be in when we are in the desert but also to rent out on Airbnb when we are gone. It is just a small portion of the house, so we are very excited to get working on the rest of it. We are envisioning lots of earthen plasters, built-ins, a desert masonry bathtub and hand-built furniture. It's going to be a lot of work but we know it will be well worth it in the end.
Photos: Kelly Brown