For this special Mi Casa, we travel to the diverse landscape of New Mexico to the desert-inspired home of Latisha Carlson of No Longer Wander. Enjoying her sun-filled abode, we take in all the elements as our conversation explores her love for design, motherhood, creativity and business. How she makes a conscious effort to take her days slow and soak up time spent at home, focussing on being intentional in each and every moment.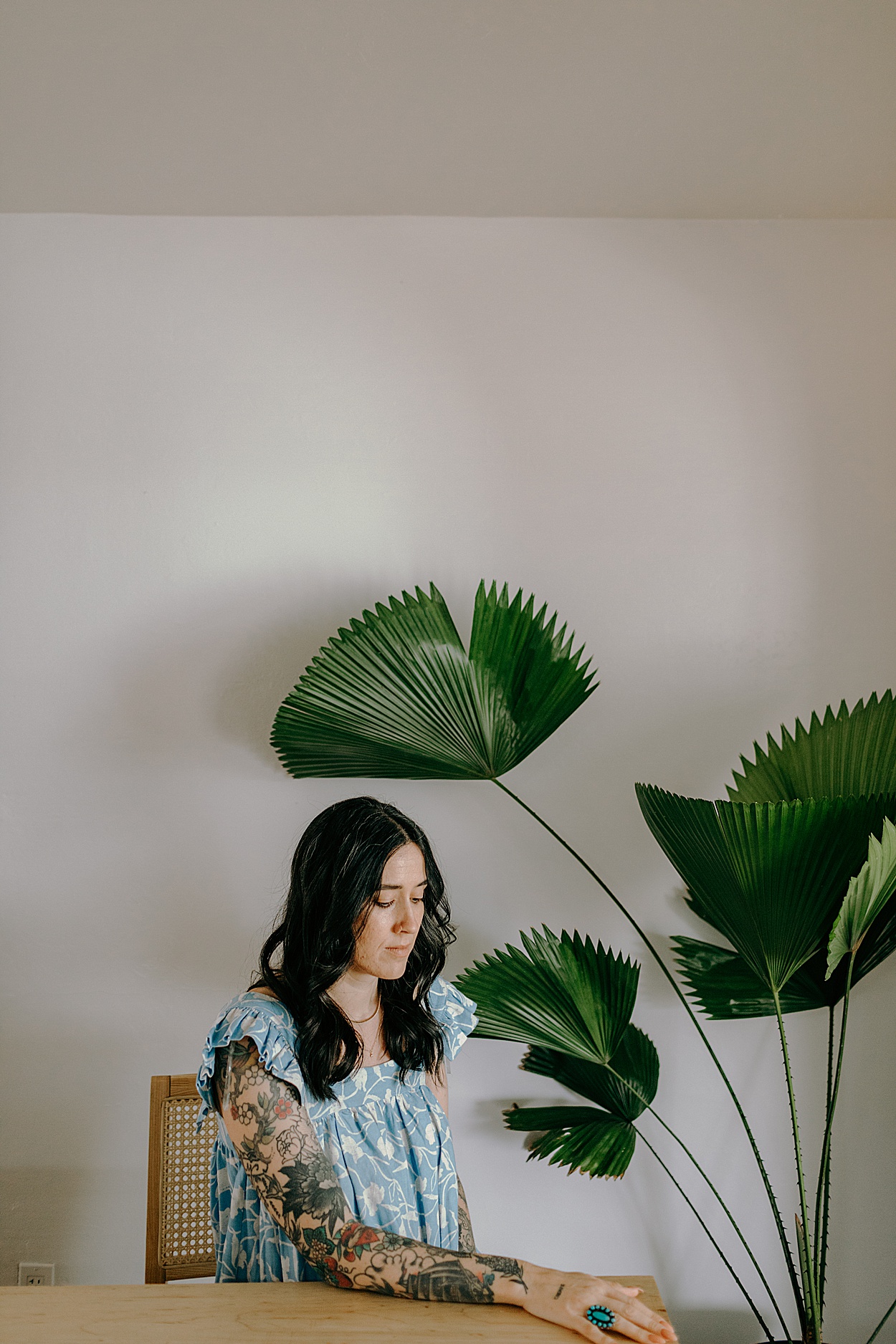 SHOP THE LOOK
1/ Mini Andes #1  2/ Litoral Woven Basket 3/ Porteño Lumbar Cushion #1 4/ Monte Lumbar Cushion #2  5/ Monte Pom Pom Mini Cushion #1 6/Saguaro #2 Fine Art Print 7/Puna Hat 8/Smudge Bowl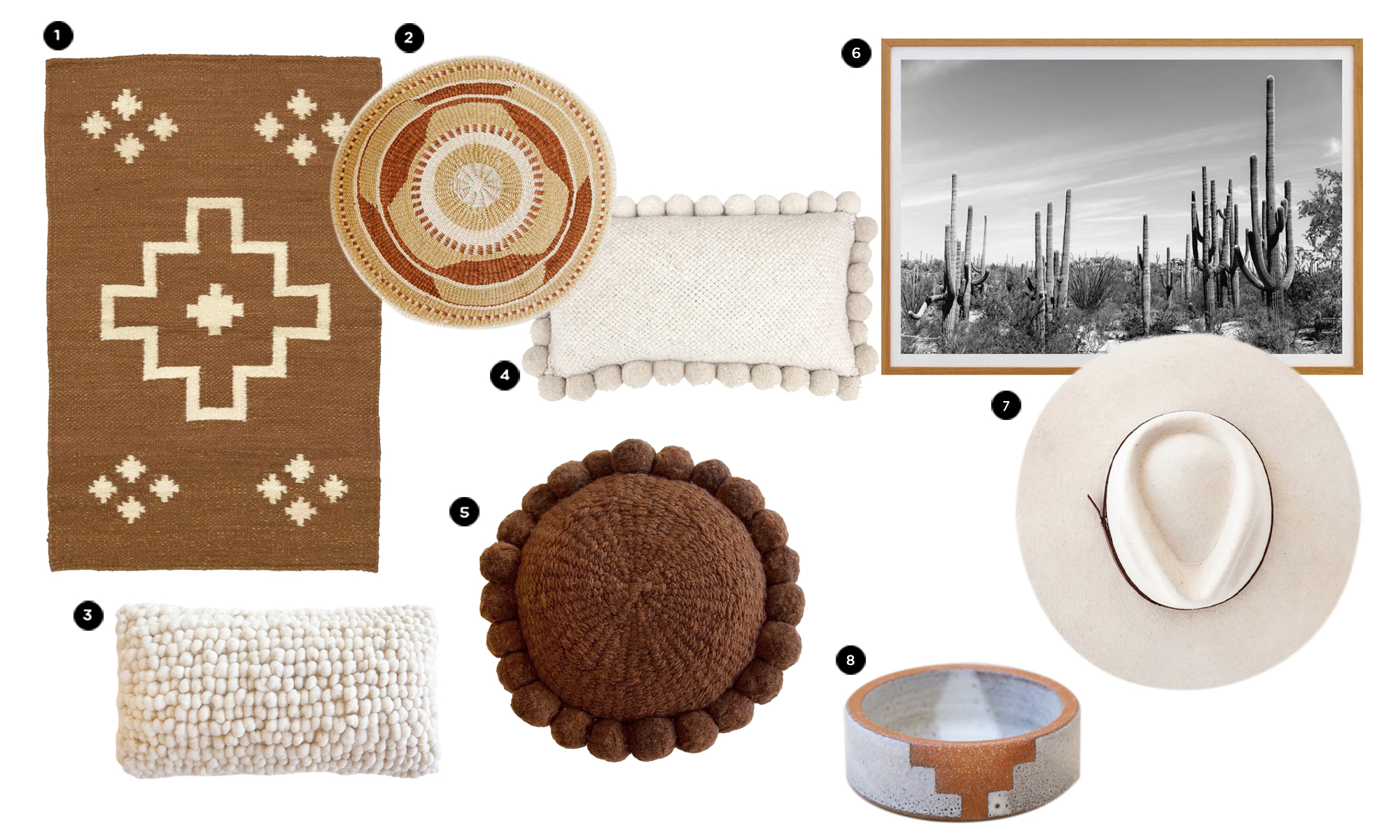 New Mexico is blessed with stunning desert landscapes and breathtaking snow-capped mountains. Tell us how your town influenced the style of your home and the outside inspired the in?
I grew up in this desert and I spent a lot of years thinking it was ugly and brown. I never really gave it any appreciation or took the time to see the beauty. It wasn't until I started viewing the world through my camera lens. Ever since I have embraced the southwest and added elements to my home design. I like adding desert southwest elements intentionally. I want to keep my home minimal, adding elements of the southwest to let them shine bright. I have fallen in love with being a desert dweller.
What do you most love to do when spending the day at home?
I take my days at home slow. I spend my morning drinking coffee, watching the light peek in… and I usually take time to catch up on chores. I also love rearranging a space, so I take time to rearrange. Rearranging inspires me creatively, mentally and emotionally. I love home so I try to soak up the times I can just be here.
You spent time remodelling, tell us how you found the process of being a mother and business owner on top of that?
Wow, this question has so many parts. Designing spaces is a dream so being able to take the time to update our home was fun, inspiring, and challenging and it's been so nice having the extra space. I have learned so much. So much I would do differently even. I have learned a lot about myself along the way. From how I deal with extra stress, how I face different kinds of decisions and how I approach contractors. It's been a whirlwind of learning.
But the process didn't come without questioning myself over and over. Lots of crying because of the craziness. The endless dust was overwhelming at times. I had to learn to get creative in making parts of our home a place we can feel like we still find enjoyment.
Being a multi-business owner and having my home under construction came with days that I felt like I was drowning and on others I just embraced the crazy for what it was. I tried to do my best to be intentional in each moment. I had to learn to find joy in the midst of the mess and the lack of organization.
You create so many beautiful spaces, describe your favourite nook?
So kind, thank you! I feel so honoured. My favourite nook in my home would be my bedroom corner. It's a space that is simple and I love the way the light hits it. It's calming to me. It's a place where I can breathe, rest, think quietly, pray, and just be in whatever feelings I'm facing.
You have so many cultural touches in your home, tell us what piece stands out to you the most?
I do have a mix… a touch of the southwest, mid-century, minimal modern vibes, lots of texture and some pops of colour. To pick one piece is hard. I love that I mix old and new. Flat and textured. Dark and light. Simple and bold. I really am having a hard time choosing. I have spent the last few years really trying to fill my home with only what I love. I have a few pieces that aren't my favourite but waiting to replace them with just the right pieces.
Are there any new and exciting projects you are currently working on?
I am finishing up a coffee shop design project. Taking a space from an outdated uninspiring bookstore to a space people want to gather and spend hours in is amazing. I'm also slowly working with a client on her mid-century home set at the base of the Sandia mountains. Her home sits at the base of the mountain surrounded by all things desert. I just finished her doctor's office! I am excited to design a workshop in our backyard for my husband to create. Also, our home office hasn't even begun since the remodel but I really want to get that set up!
We love your style and your Pampa pieces really enhance your space. what drew you to Pampa and what is your favourite piece you own?
I love that you feel Pampa pieces enhance my home. I feel the same! They have become talking pieces as well when guests are over. Pampa is filled with texture, and perfect colour tones and the patterns are just enough to add to a space without overpowering. The southwest vibes that Pampa embraces are beautifully done.
Tell us what home means to you.
My home is my safe space. It's where my hair is tied up, makeup comes off and my brain unwinds. It's my place where I feel I can just be. I shed tears here. I have deep conversations with my closest friends. It's where my kids are being raised. Their childhood memories are between these walls. It's where suffering and joy happen. It's where dreams are inspired. Home-cooked meals are created. My home is where I find the most comfort. The way I feel about my home fuels how I want to design other spaces.
Photos: Matt & Tish Photography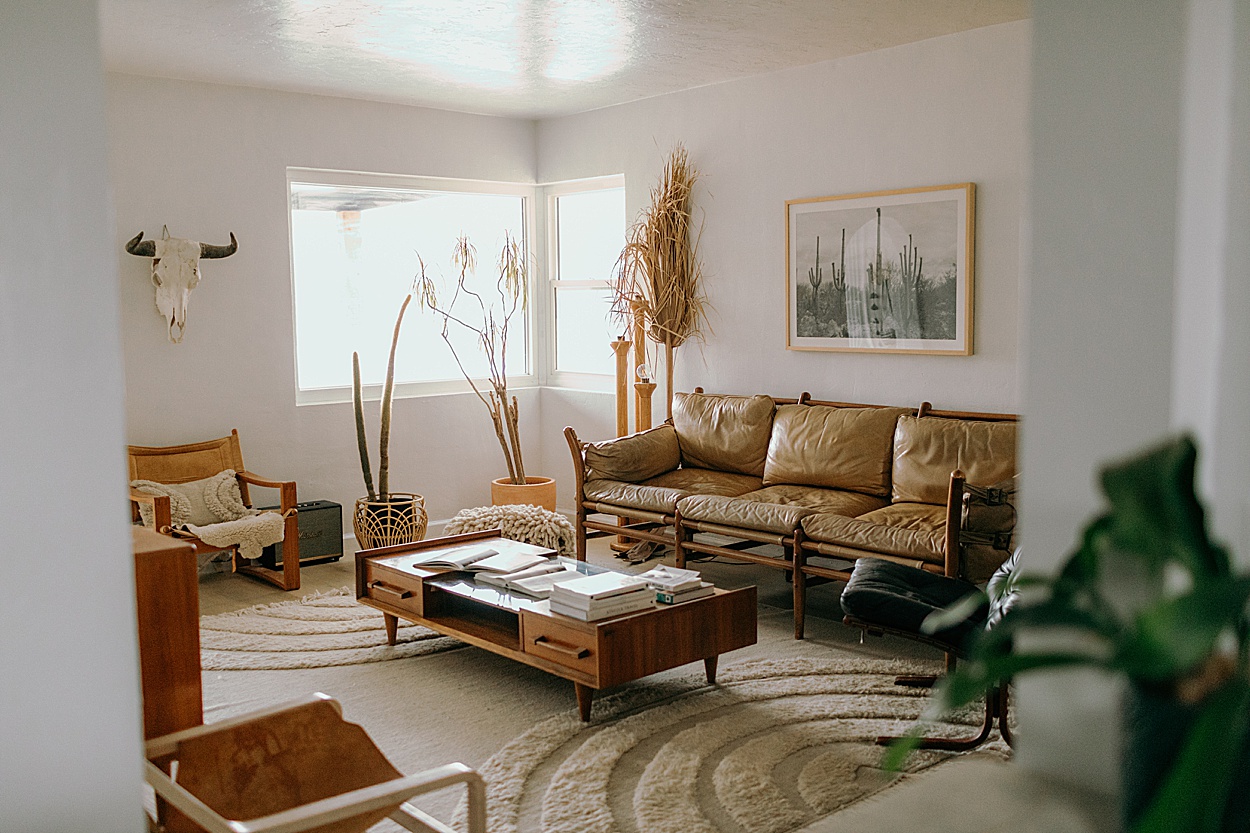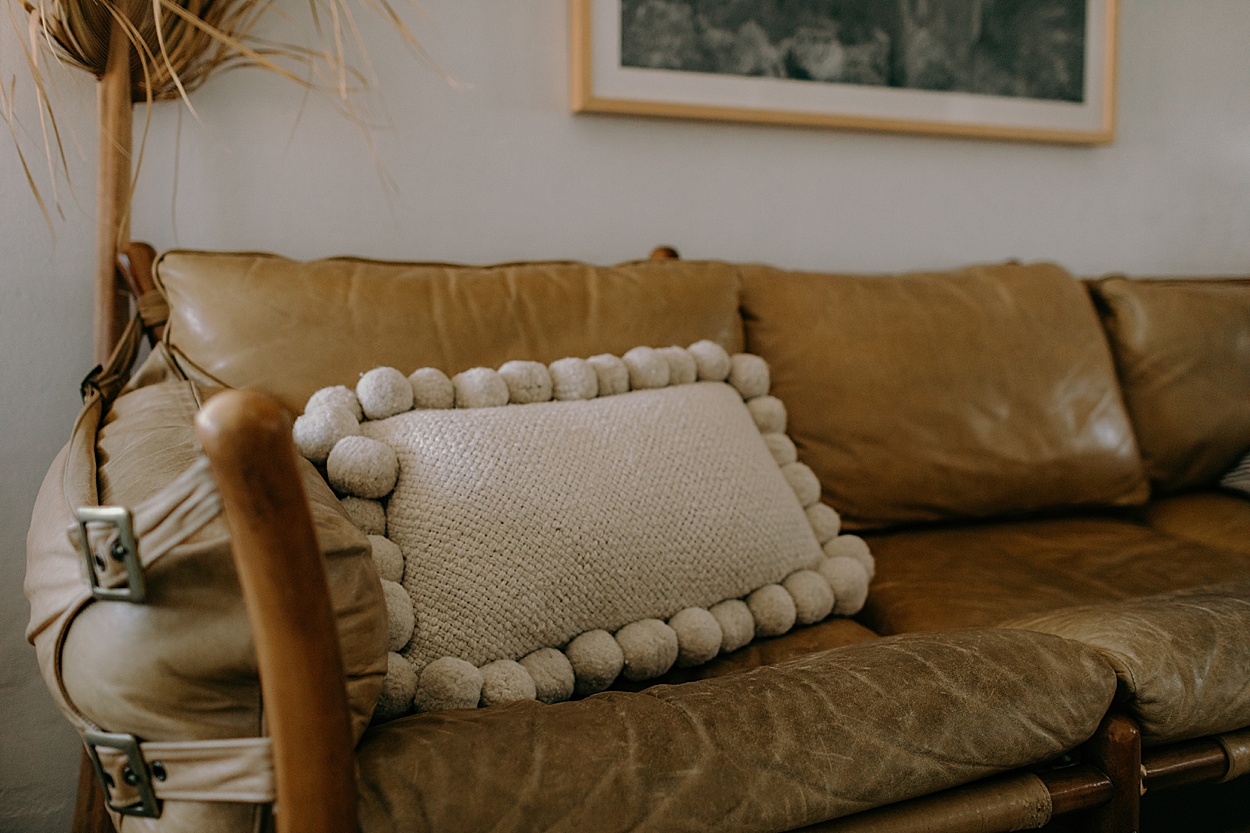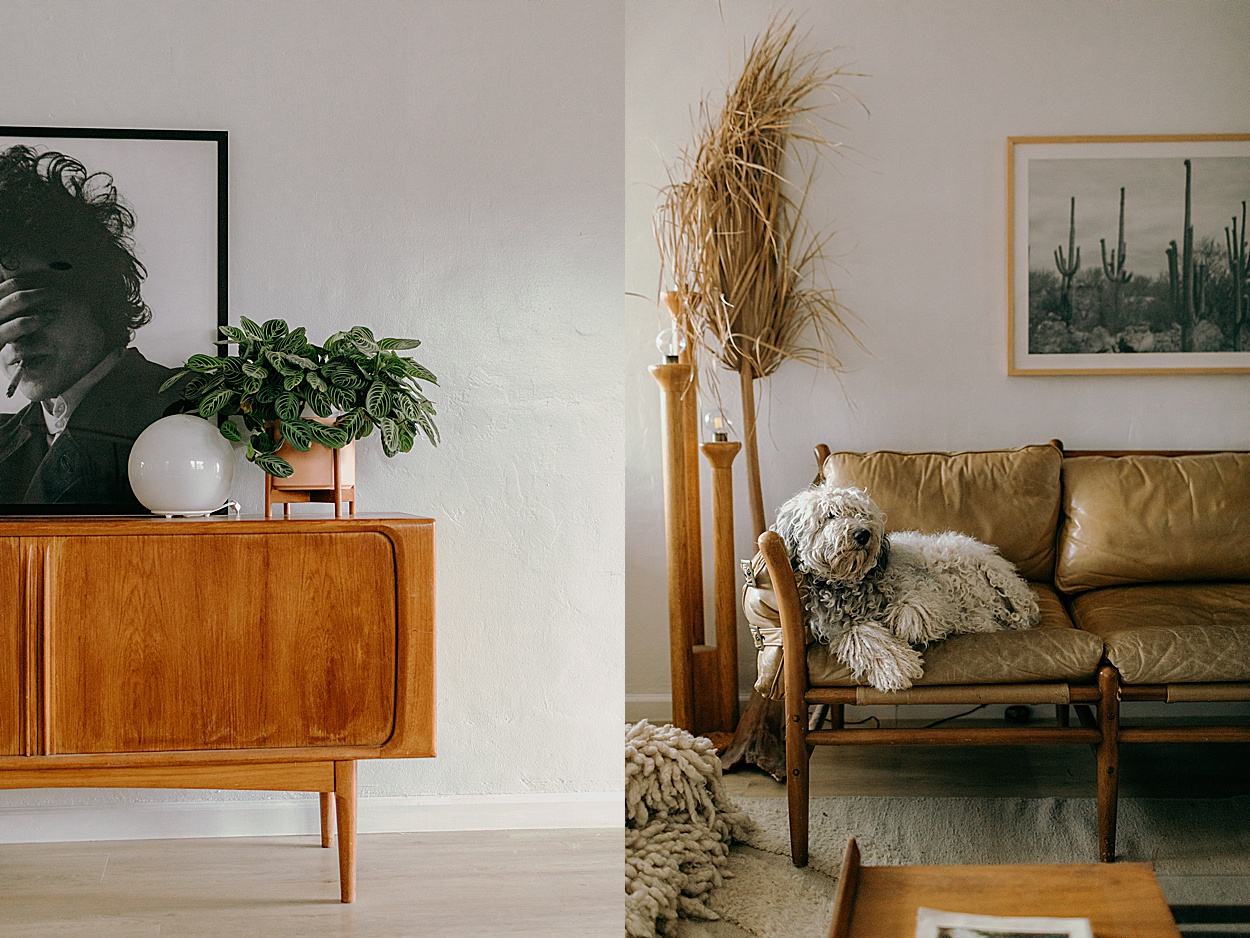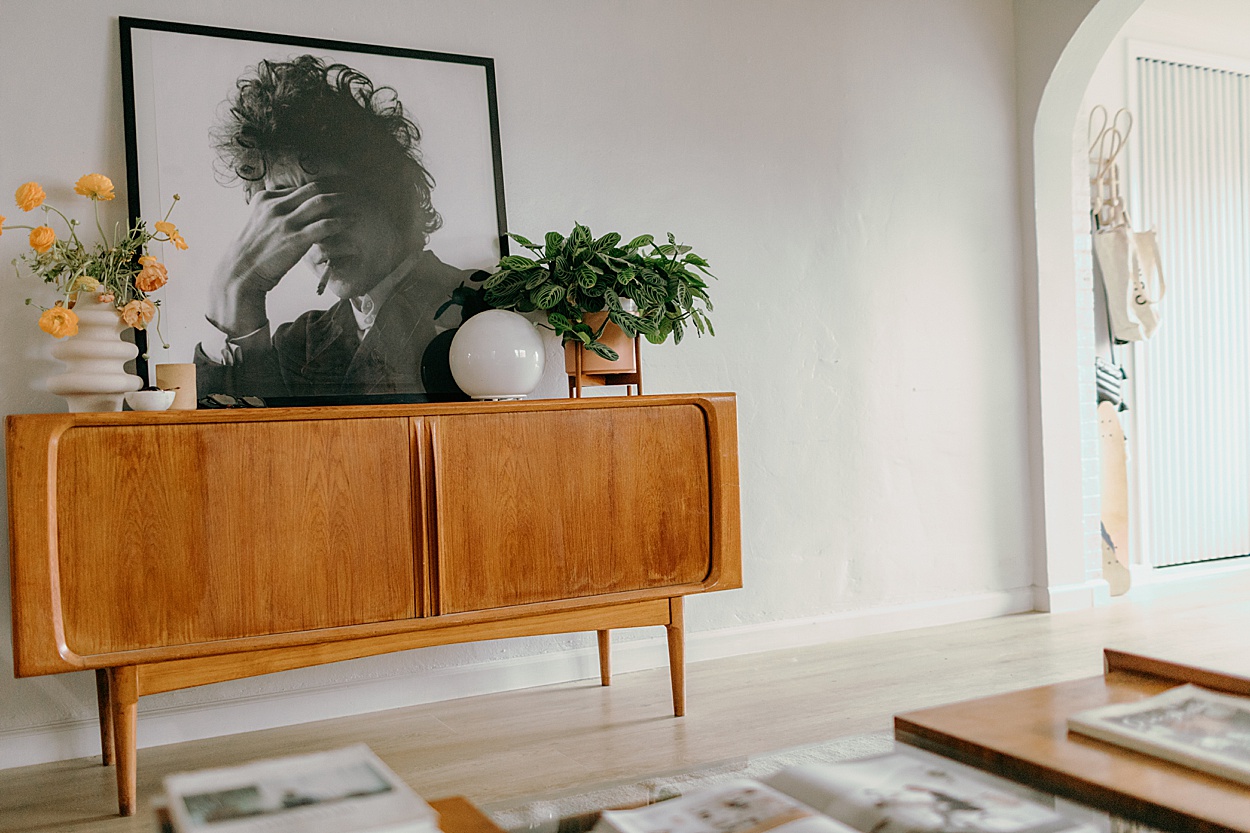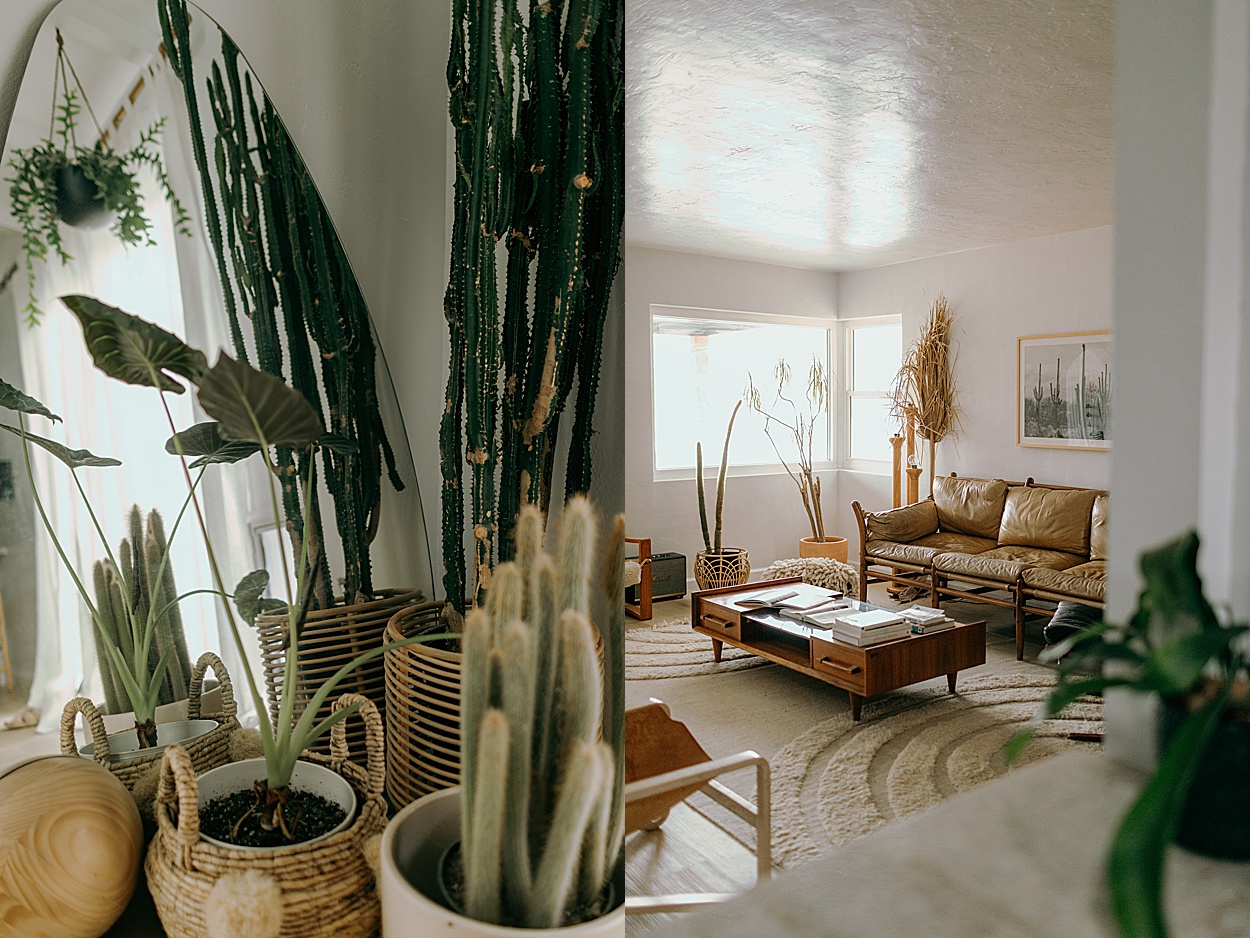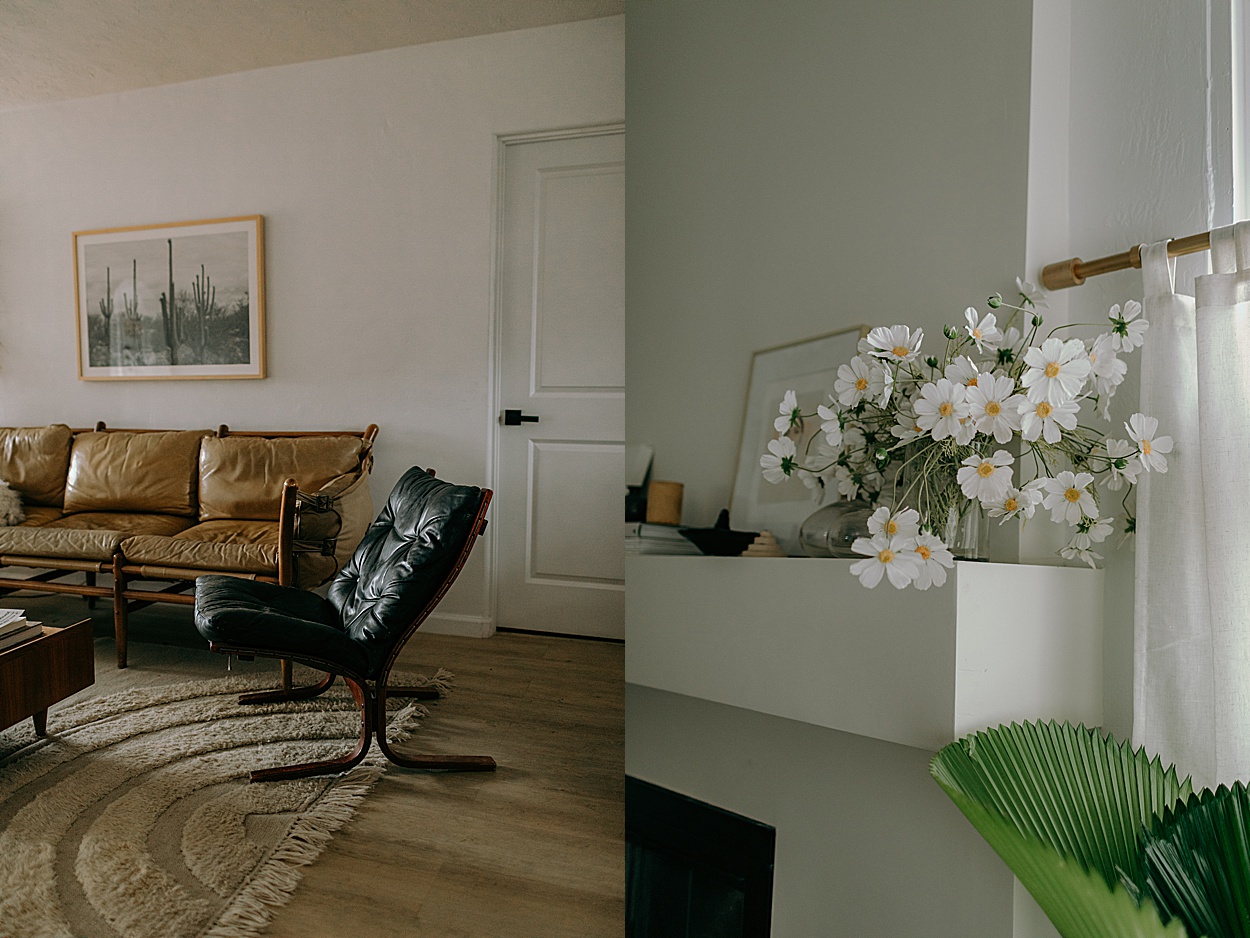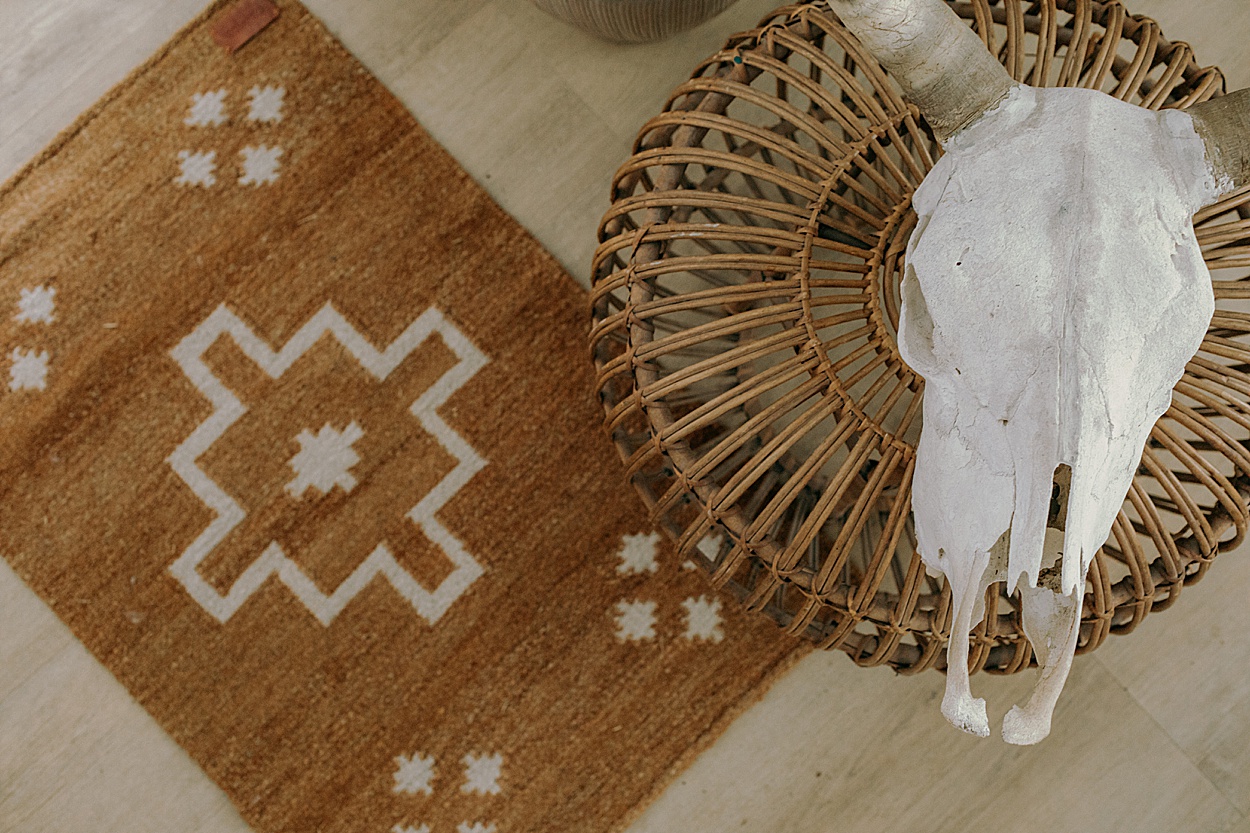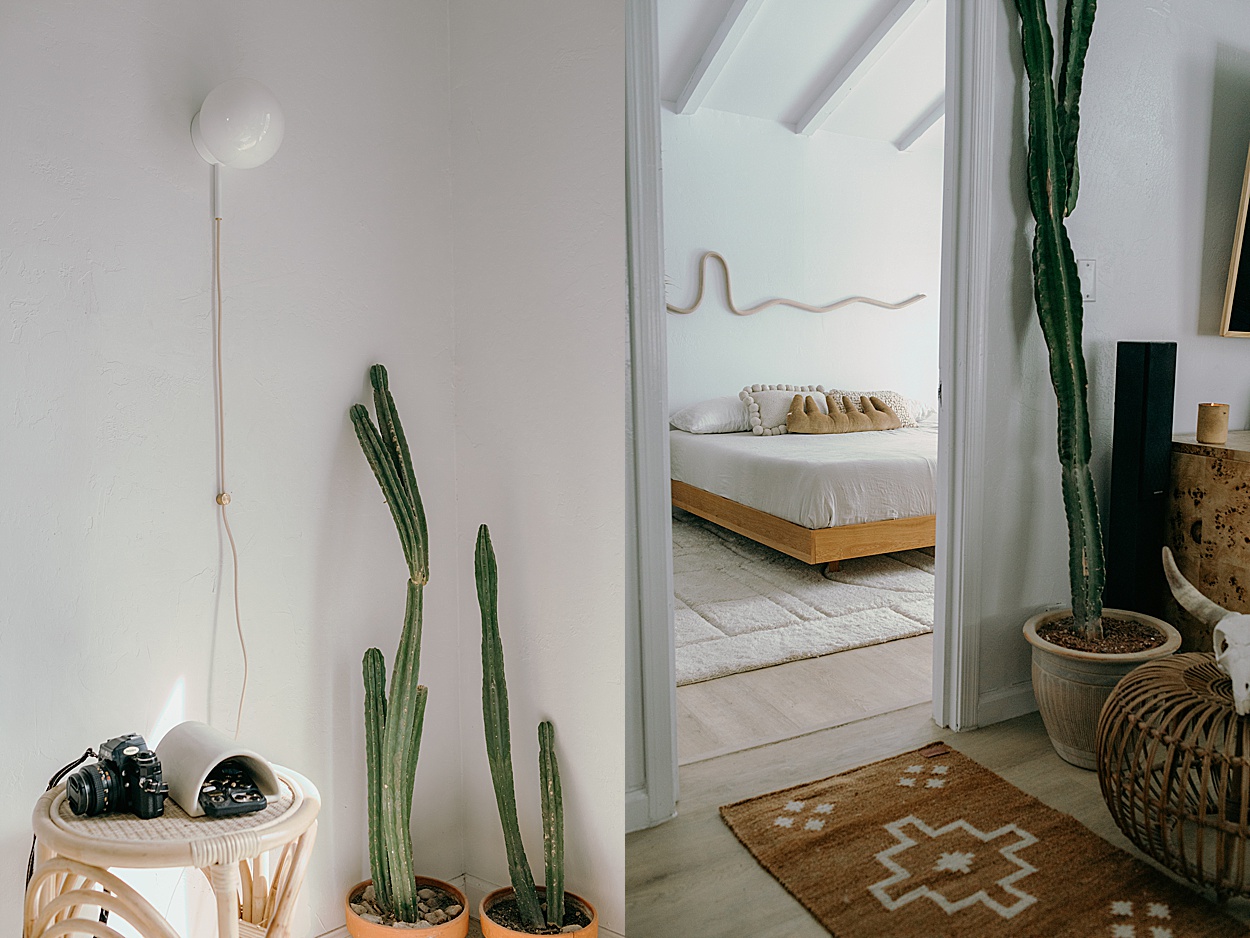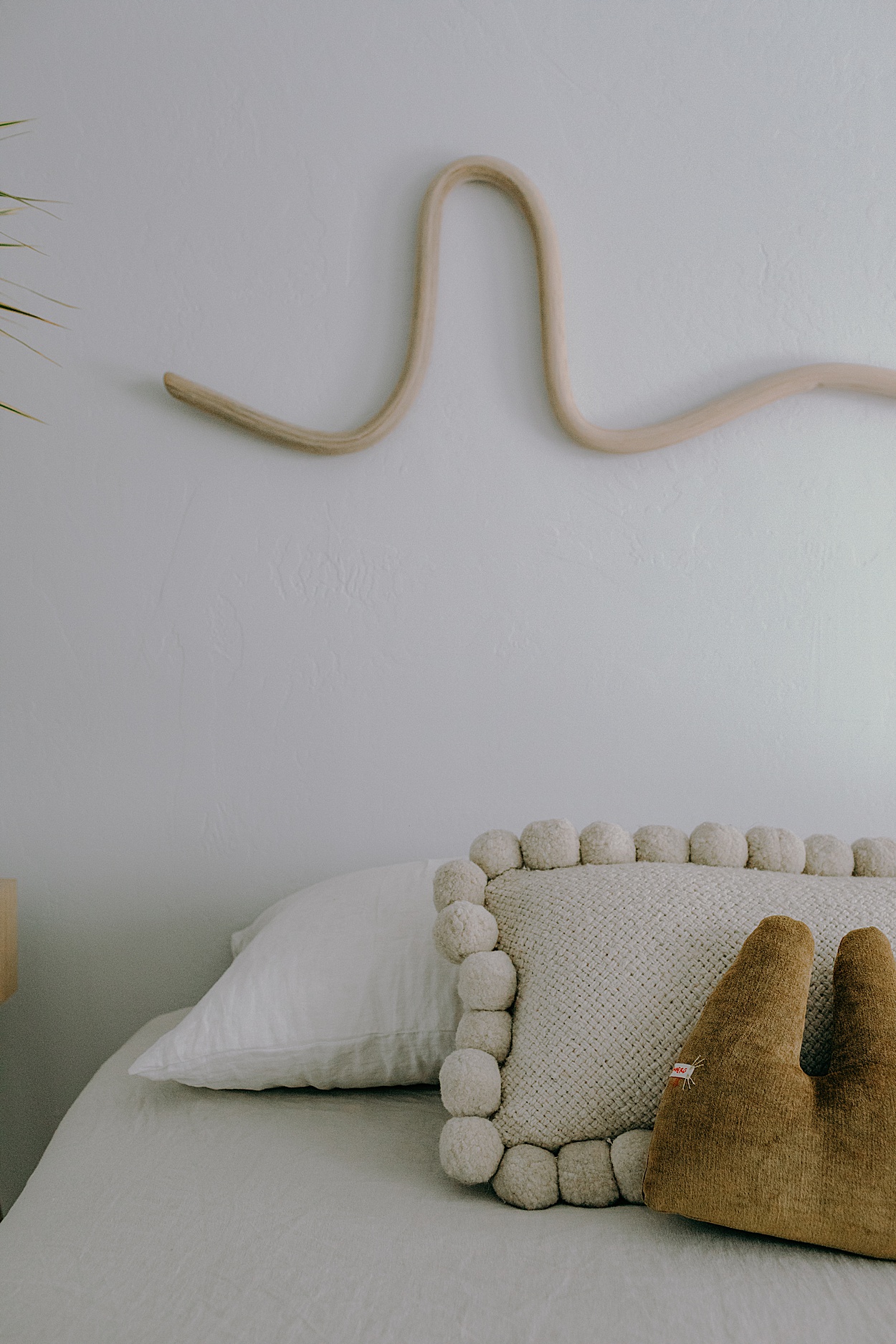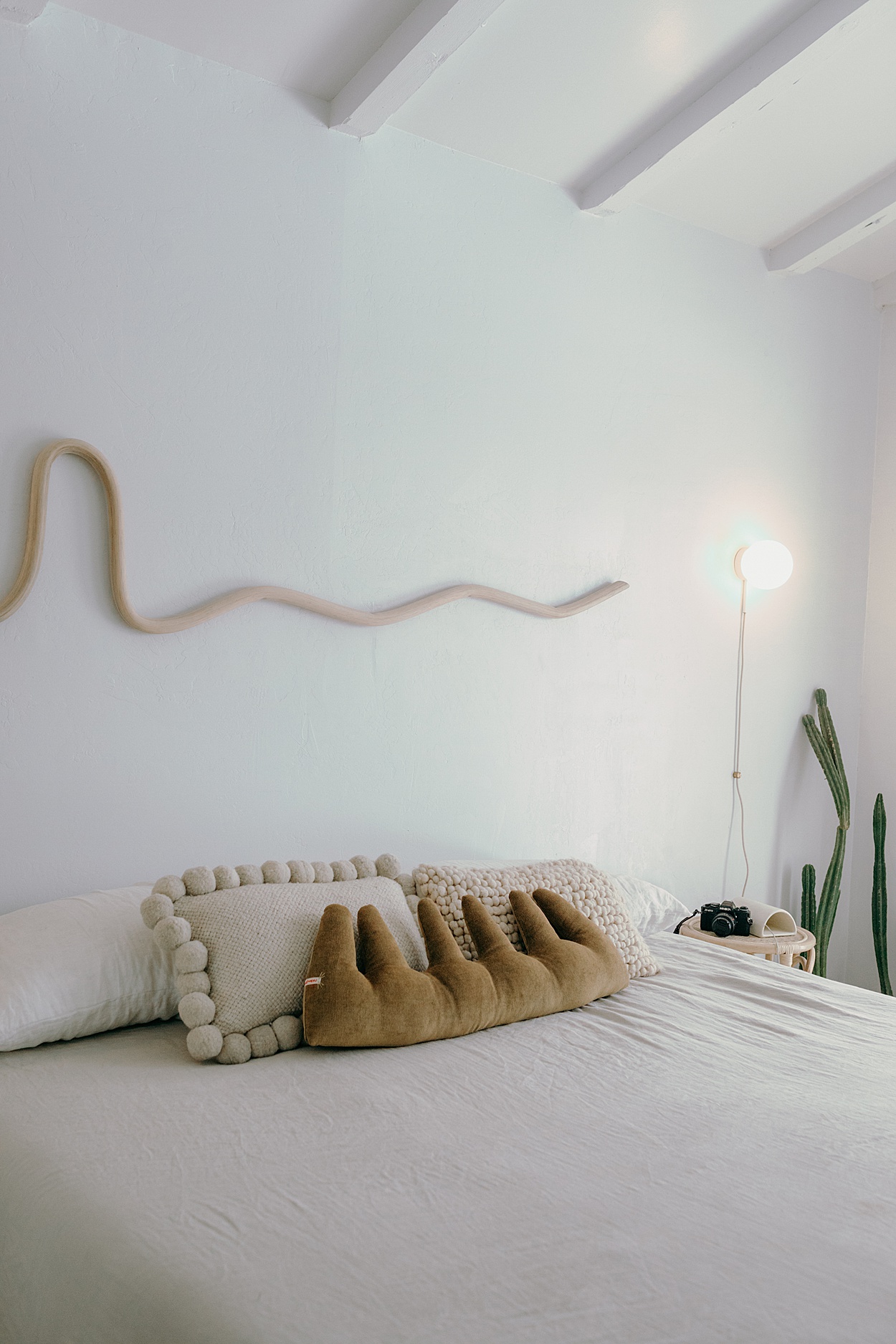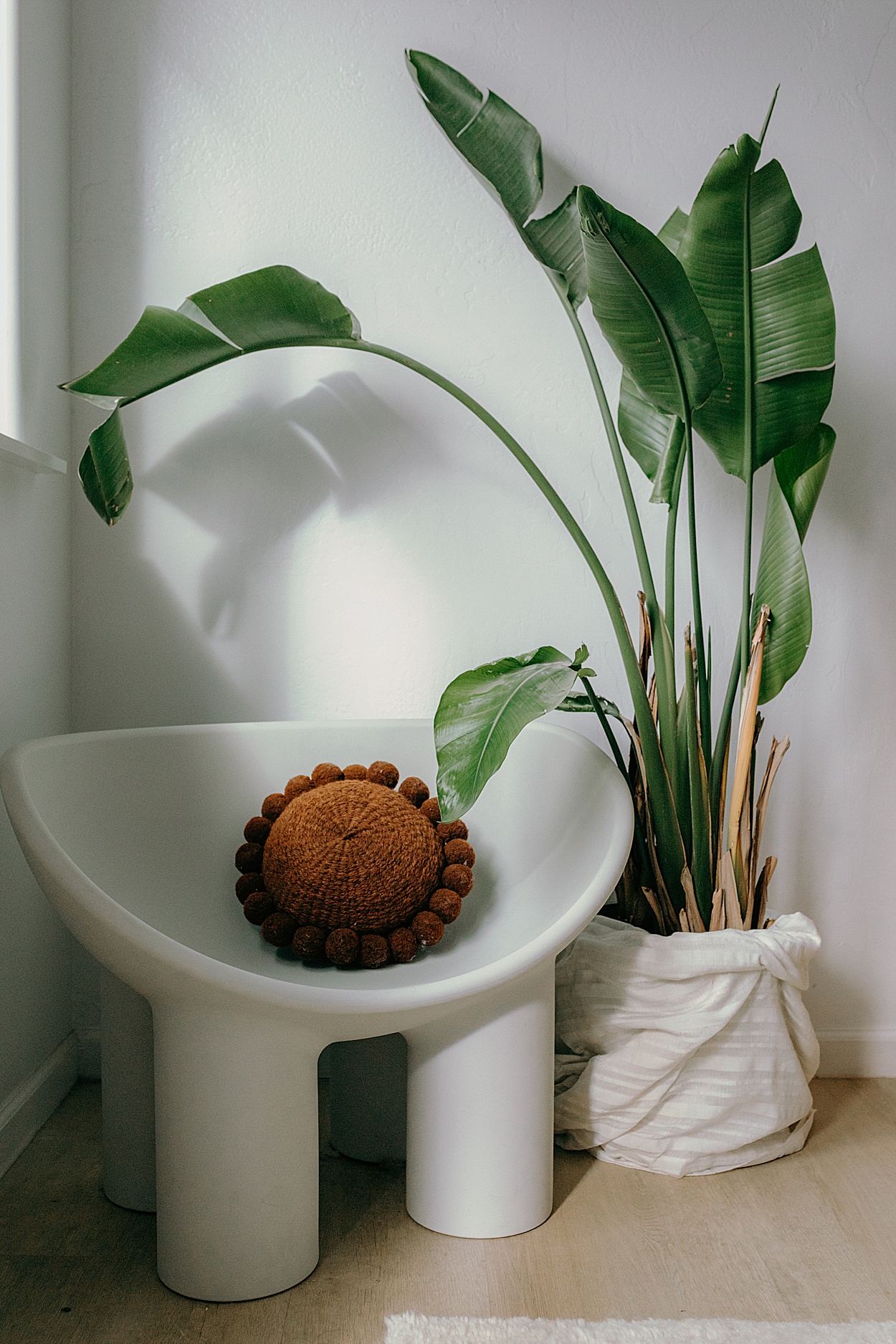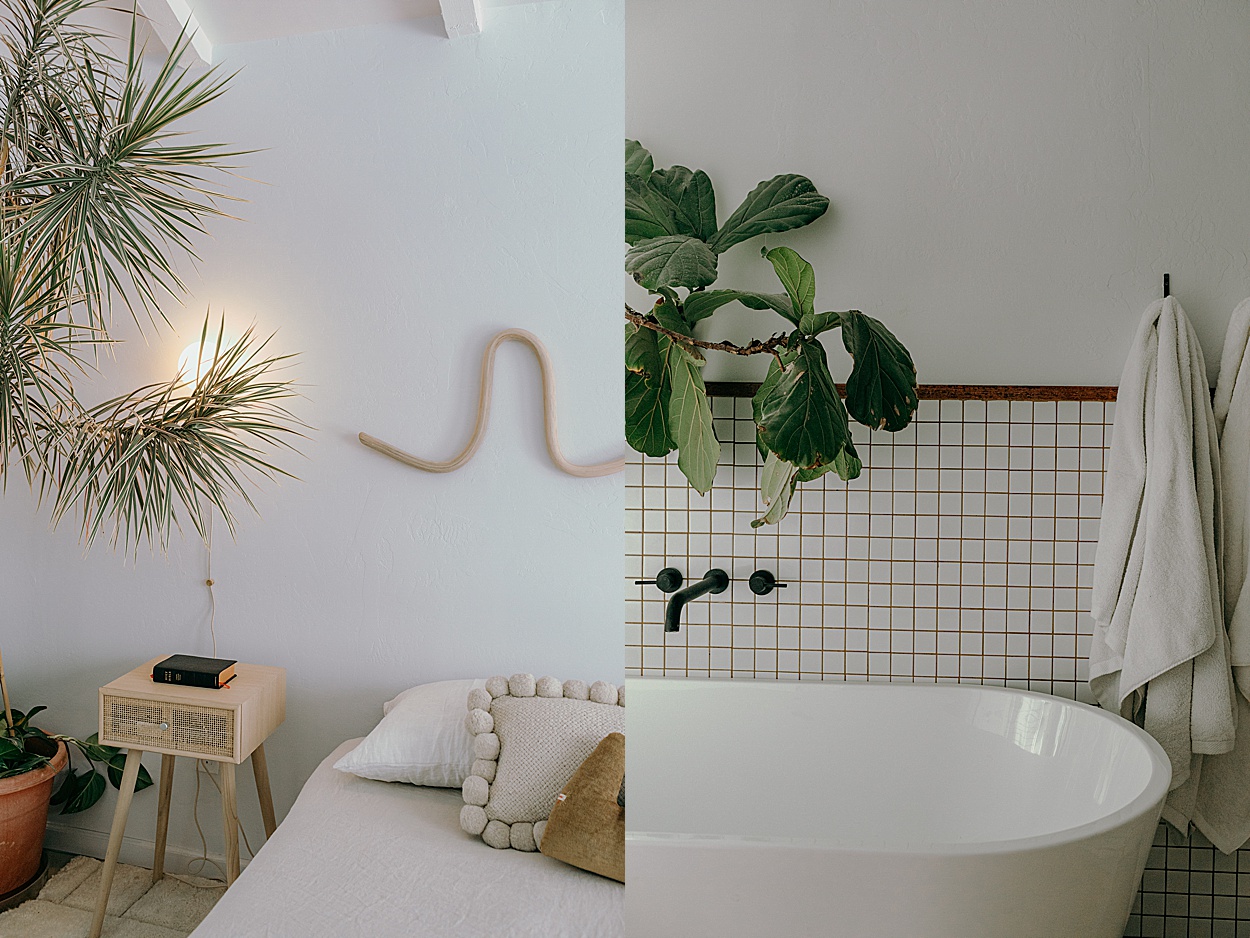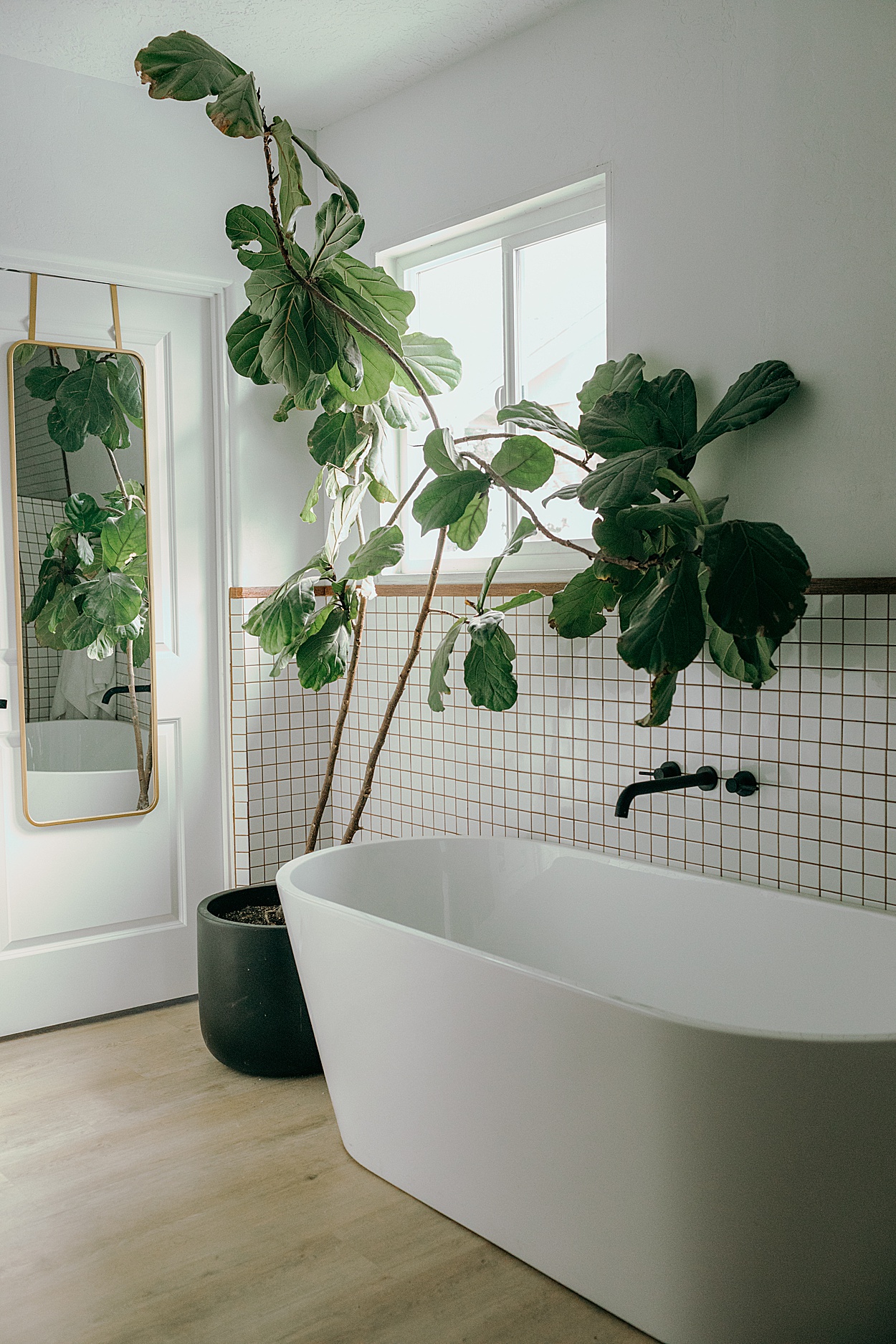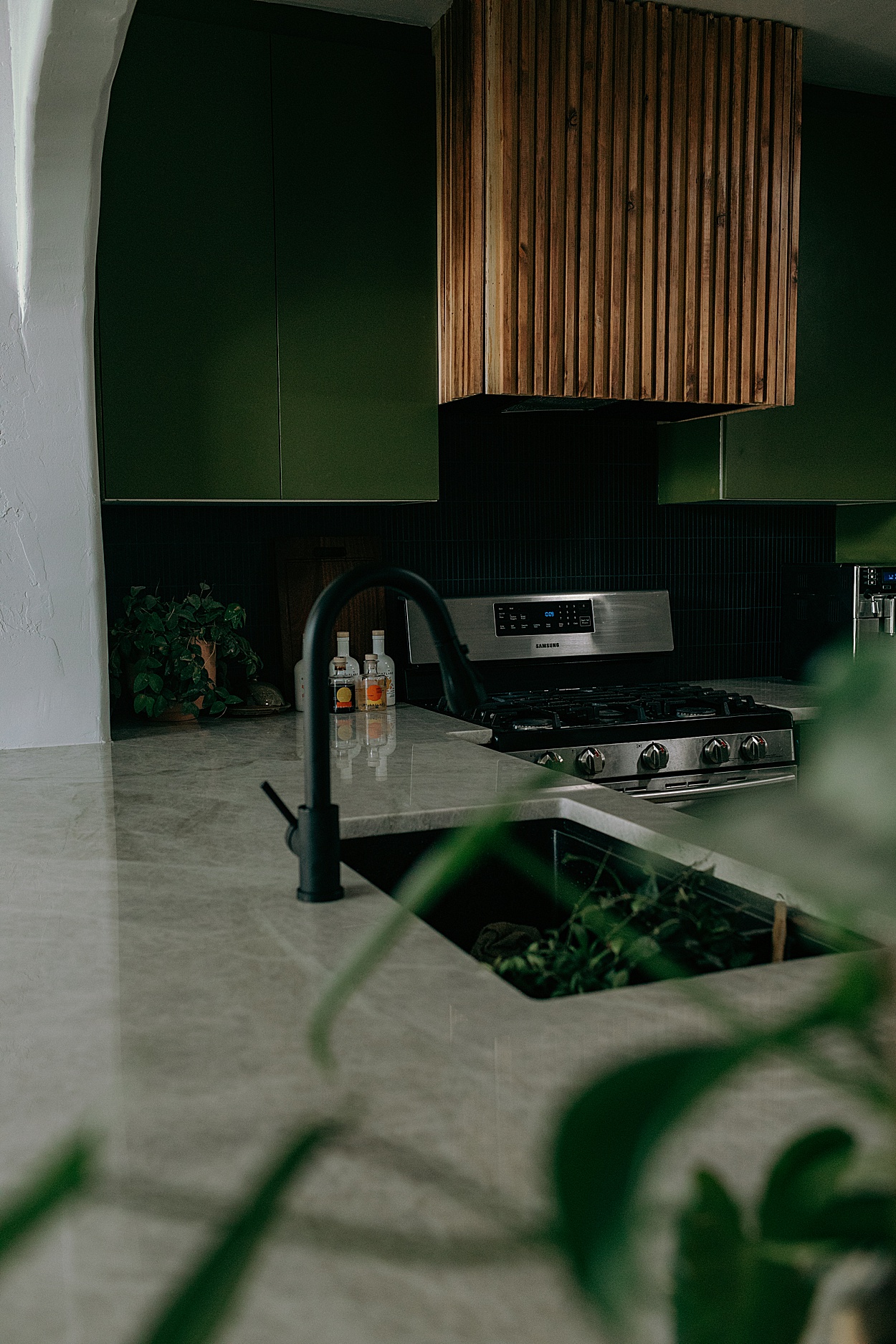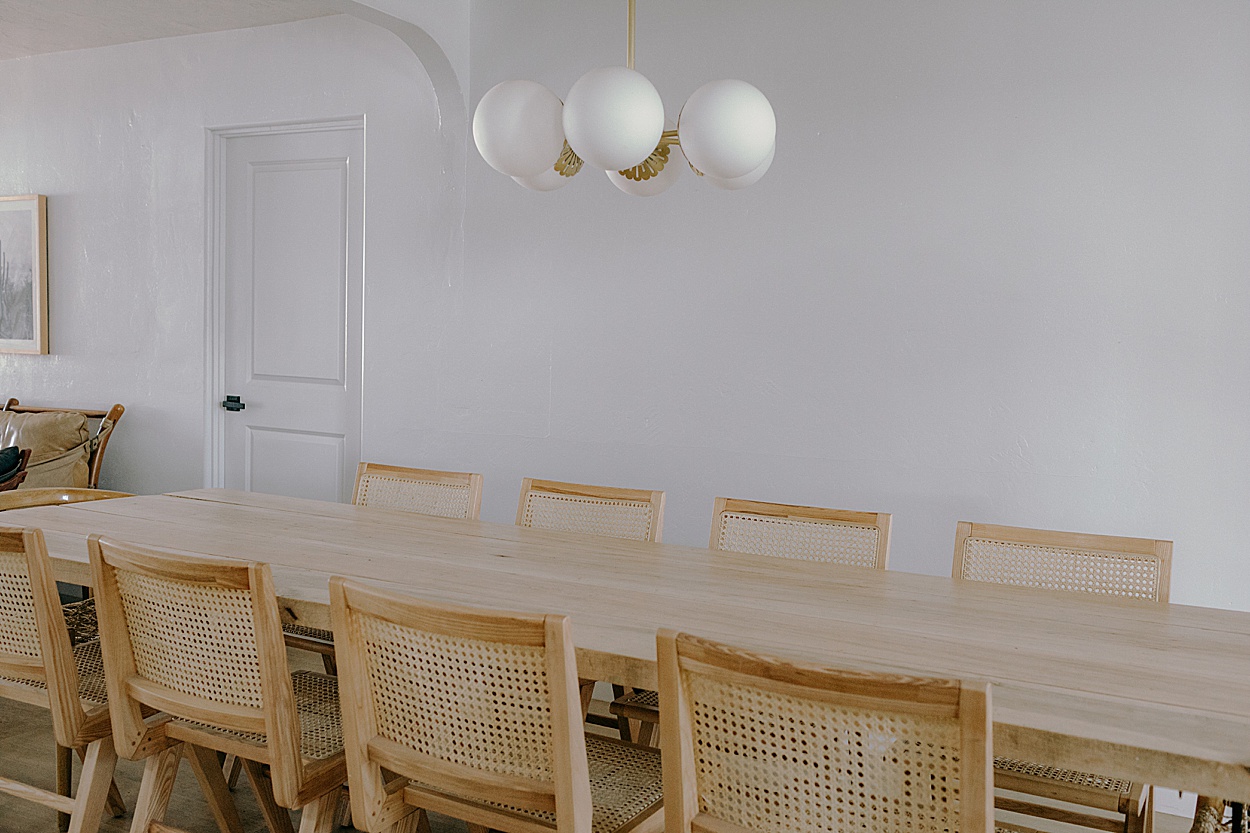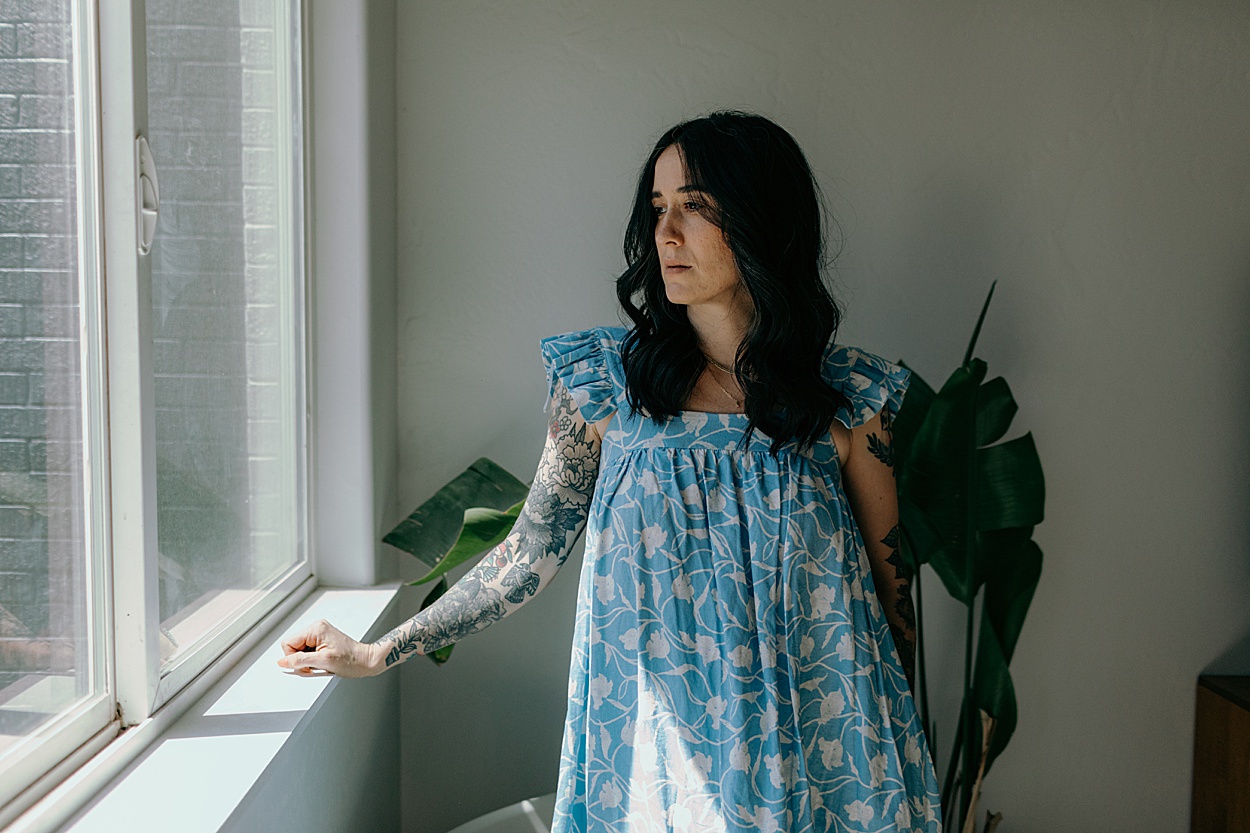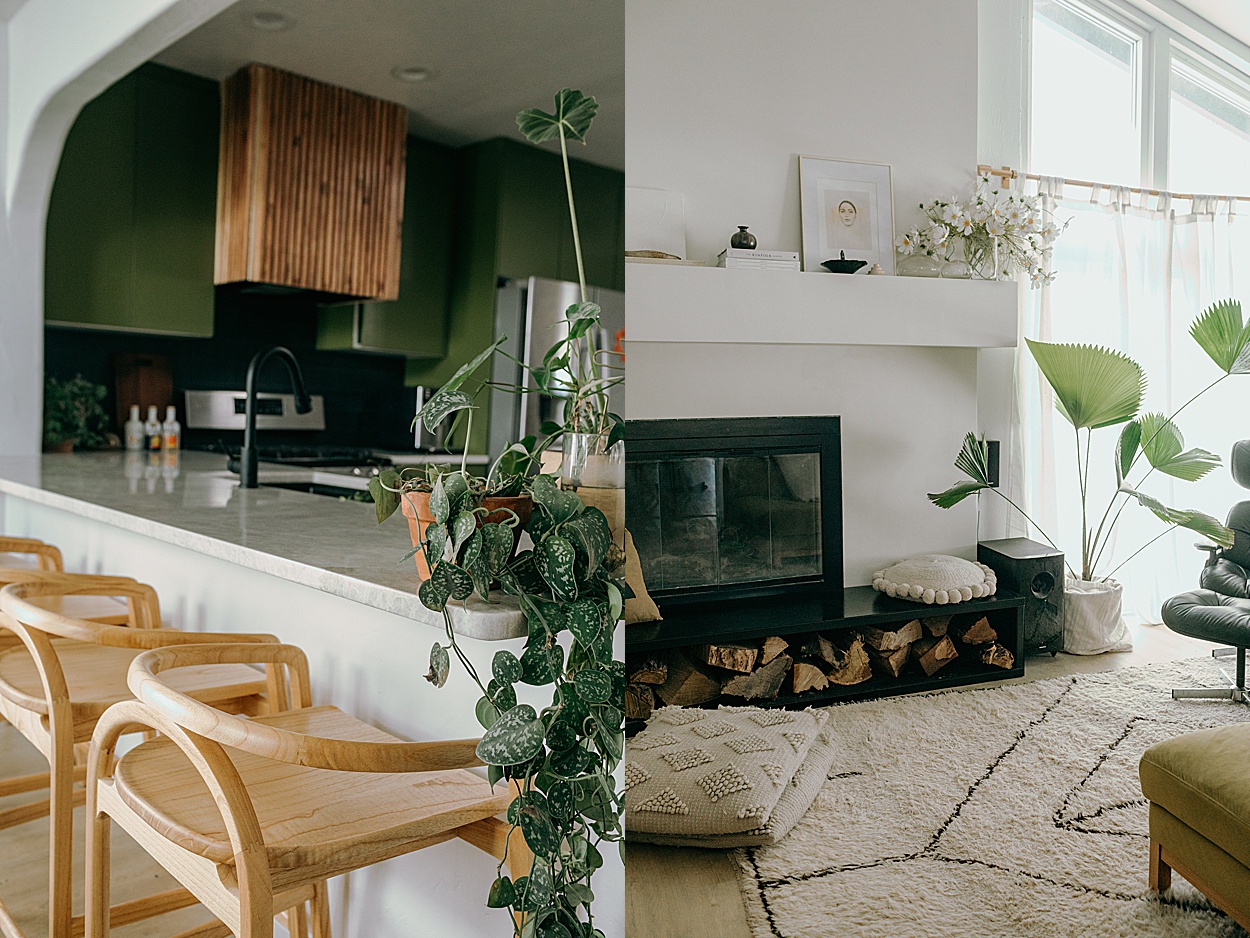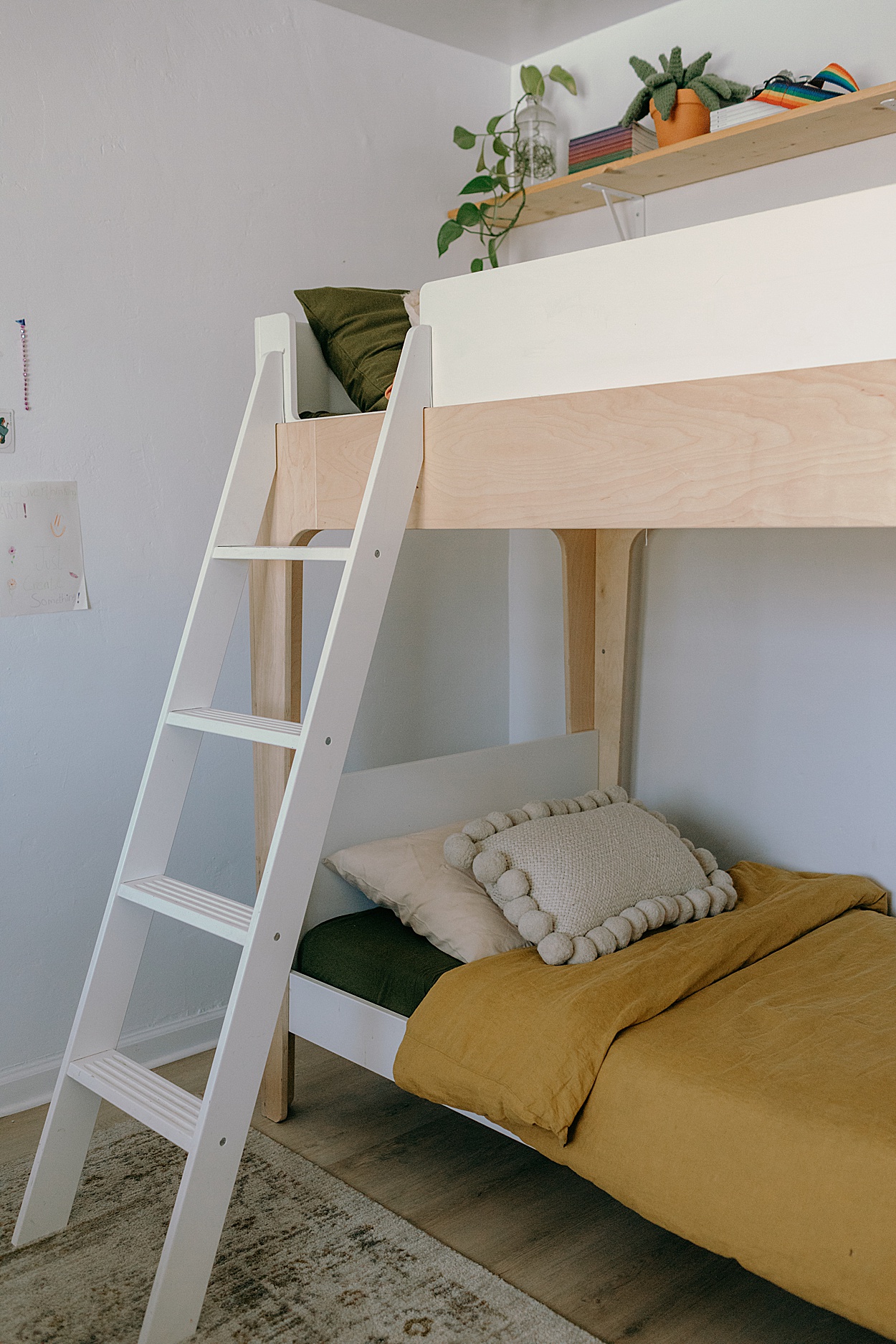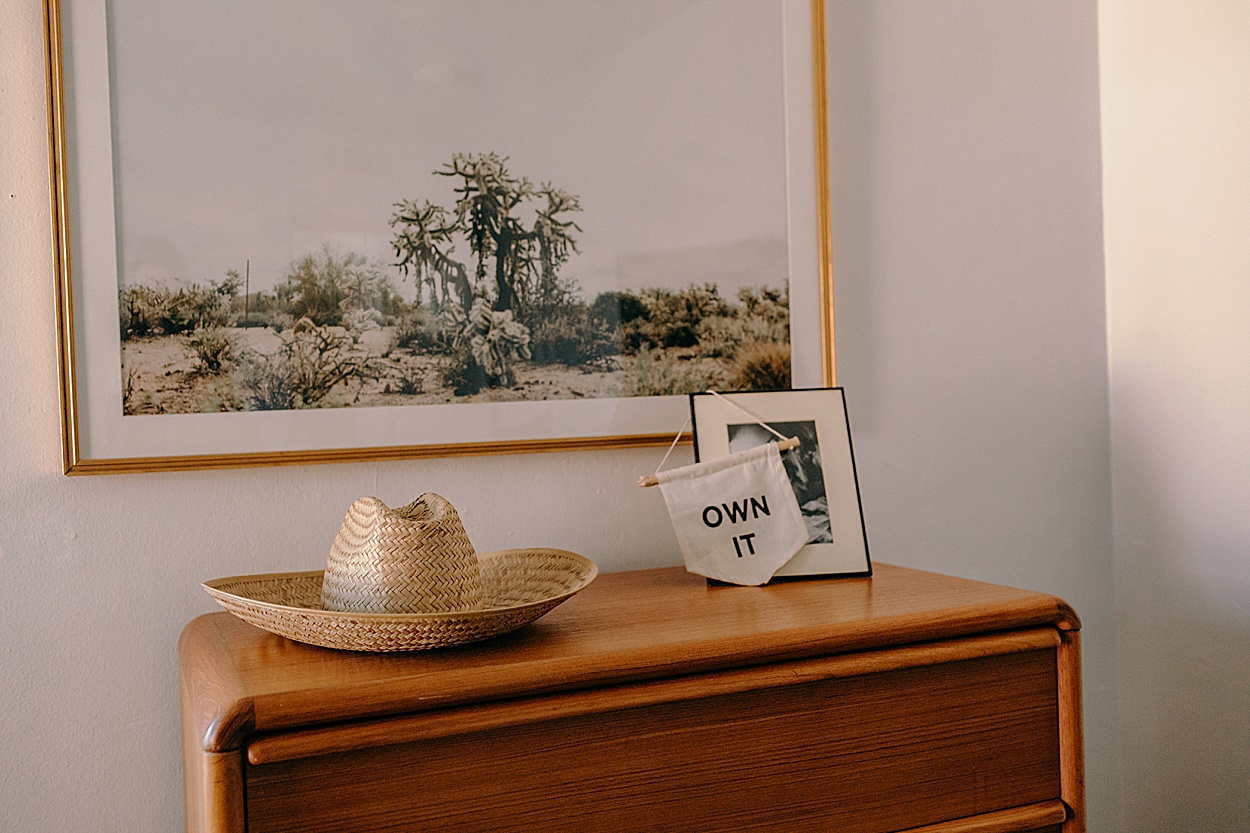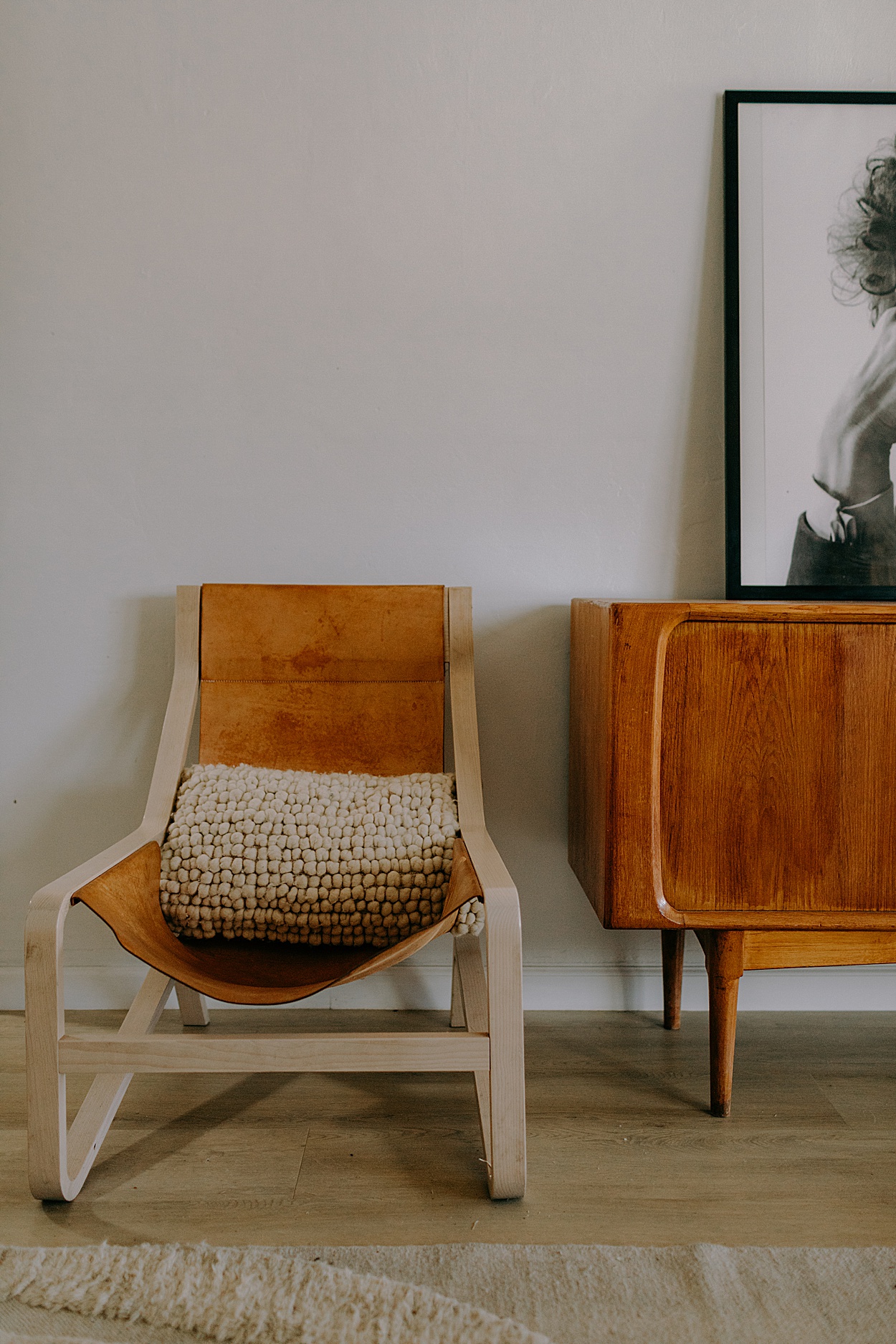 *All images & words are copyright of Pampa, for any kind of use please contact us at hello@pampa.com.au for permission.
Photos: Matt & Tish Photography