Today we visit Emily Tartaglia, a photographer from Tuscon, Arizona to set sights on her and her husband David's custom-built home. A thoughtful play on traditional and contemporary design, complimenting the desert around them, the space was built consciously, from the ground up. We look back on how they truly had to trust the process, their gratitude for the simple pleasures they now enjoy and the importance of capturing the lessons learned.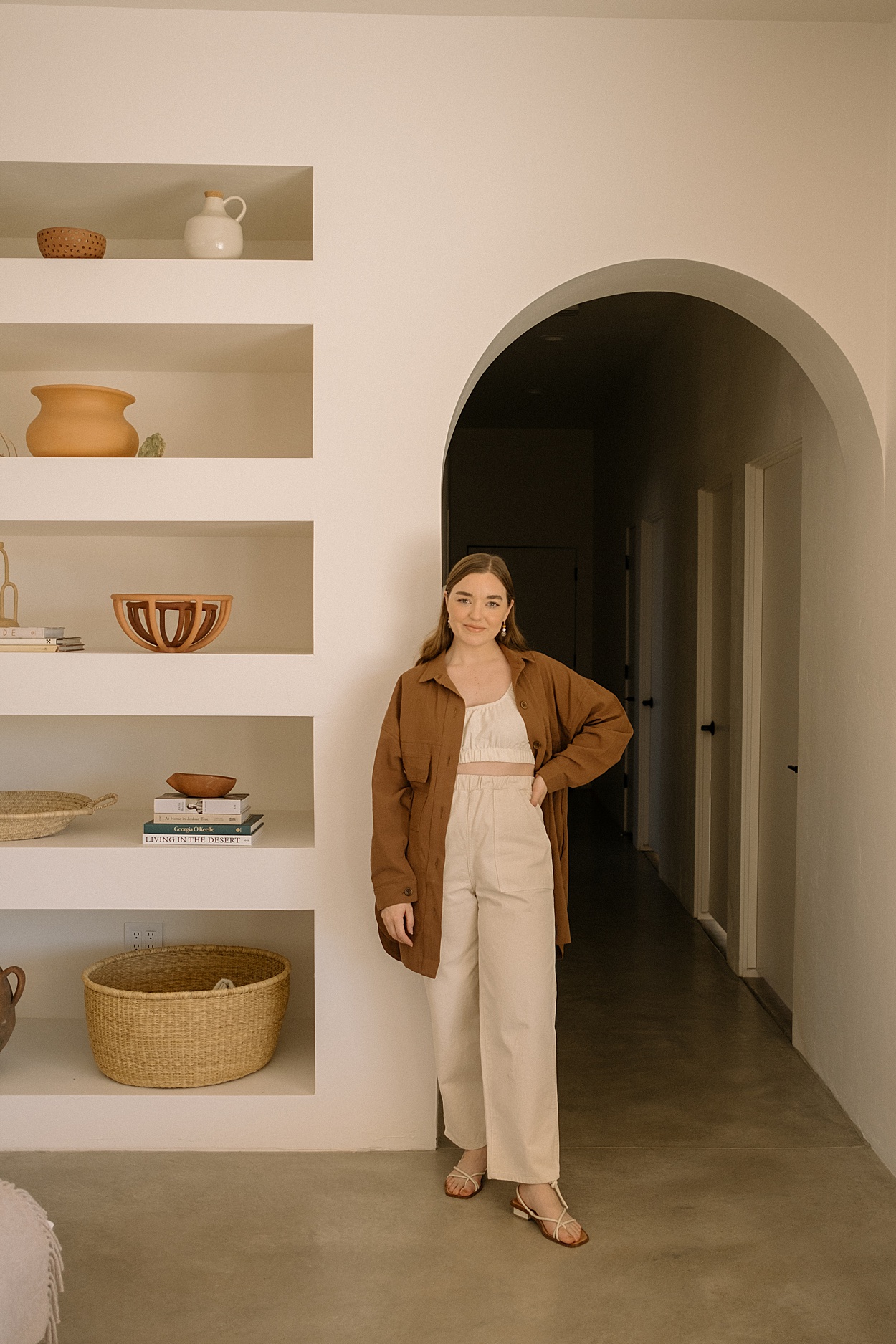 SHOP THE LOOK
1/ Catalina Made-to-Order Rug 2/ Saguaro #16 Fine Art Print 3/ Monte Cushion #3 4/ Half Moon Incense Holder 5/ At Home in Joshua Tree 6/ Monte Cushion #7 | Sand 7/ Monte Loveseat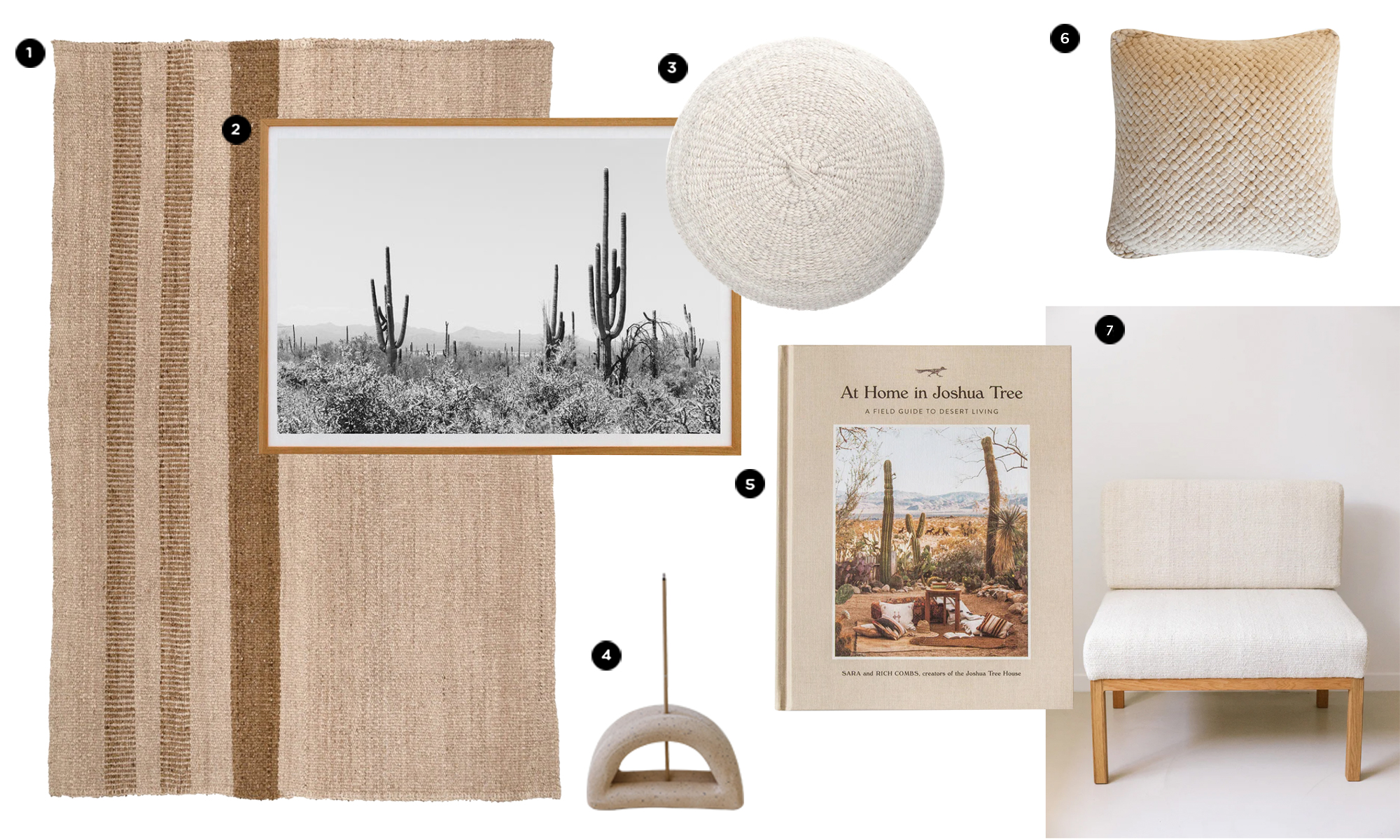 You built your home from the ground up, what inspired you to start from scratch?
I think both the environment and my experiences as a child influenced my wanting to start from scratch. My parents own a construction business, which I have also been a part of for over ten years now. Growing up, I can still picture all the blueprints scattered around their home office, the days when I would get to go to job sites with my dad, sifting through his tools and materials whenever we visited him… not to mention the countless times I pulled all-nighters to completely re-arrange and decorate my room. The construction and design process has always been such a part of my life, that it felt natural to go this route.
Was the experience what you expected? And what was the biggest lesson you learned along the way?
Yes and no. While we fully anticipated bumps along the way, we closed for our construction loan right before the pandemic. We had no choice but to mush ahead and were faced with some pretty large cost increases, not to mention having to do a lot of work ourselves. With that said, I learned to just fully trust the process, as every literal blood, sweat and tear led us to this — which we are so grateful for!
What drew you to the Arizona desert and why do you love living there?
I was born and raised in Arizona — in fact, I grew up less than ten minutes from our home! I love Arizona for so many reasons. The sunrise and sunset which we see so beautifully from our home, the smell of the desert after the monsoons, the landscapes and national parks that are close by and filled to the brim of saguaros, creosote, cholla and more. Aside from nature, so grateful for the family and community that surrounds us!
How does your home reflect the natural surroundings in which you live?
I wanted to make sure that our new home build complimented the desert around us. At a glance, our house (although modern) transports me to our favorite historic neighbourhood… smooth stucco and a creamy white that contrasts the rough sawn wood beams around the porches and above the windows. We still laugh about how our painter questioned our paint choice saying the dirt would eventually kick up and create an ombre effect — I exclaimed to him, "that's what we want!!" We want to feel like this home has been here for years! We incorporated lots of natural materials like plaster and clay, including lights and ceramics by local artists. We repurposed ocotillo and dried cholla branches around the home by hanging on walls or displaying in pottery — a nod to the desert and a free way to utilize what we already have as art.
Tell us how neutral colours make you feel, and why they are a focus in your home.
My day-to-day can be pretty hectic between work and photography / social media projects. Having soft, neutral tones throughout our home create a calm environment to come home to each day.

As a photographer, you know the significance of capturing moments in time, tell us how you have incorporated that into your home.
A friend sent something recently that reminded her of me and it really resonated with me. "A room should feel collected, not decorated."  As capturing moments on camera is collecting memories, our home is full of memories from the last fifteen years together. A rock on the shelf may look like just a rock to anyone else, but it's a rock we carried home during what we thought was a sunny summer walk that turned into a monsoon downpour for over a mile! Or pottery we brought home from trips like New Mexico for my 30th birthday and Marfa with friends that take you back to that special place. I love looking around our home and seeing even the smallest objects hold meaning to us.
What drew you to Pampa products?
After meeting Vicky in Tucson a couple years ago and learning of Pampa I was immediately drawn to the amazing photography and story-telling. Quickly, I fell in love with the textiles and beautiful curations from the cushions, rugs and homewares. We now own a Monte rug for our main living space and it's dreamier than I imagined from the photos and so comfy to walk on!
Tell us your favourite room in the house and why.
Although it's not quite a room, our porch feels like an extension of our main living space and it's so special to us. We incorporated built-ins; a lounge area on one side and dining on the other, so that we could enjoy the cool months outside as much as possible. Since we moved in the late Spring, we only got a taste of enjoying this space and are looking so forward to living out there this fall!
Describe your perfect day in the desert.
Wake up early, and enjoy coffee outside with my husband while a favourite record is spinning. Take a walk on a creosote lined path in our desert neighbourhood. Head downtown to one of our favourite restaurants with friends and end the day right where we started for a sunset moment on the porch.