For this Mi Casa, we venture deep into the heart of Arizona, where we meet the dynamic duo, Christina and Robert Martinez, also known as New Darlings. Nestled in a landscape full of Saguaros, we chat about how a transformative move from New York to the desert shaped their unique approach to crafting and decorating their Southwestern sanctuary, where the lines between home and nature gracefully blur. Join us in discovering the story of home and life, an adventure in design, nature, and the heart of the desert they now call home.

SHOP THE LOOK
1/ Made-to-Order Esther Rug|Sand 2/ Eclipse Mini Rug|Medialuna 3/ Monte Pom Pom Cushion #1|Desert 4/ Monte Cushion #14|Sand 5/ Puna Blend Throw 6/Saguaro #16 Fine Art Print 6/Made-to-Order Ines Rug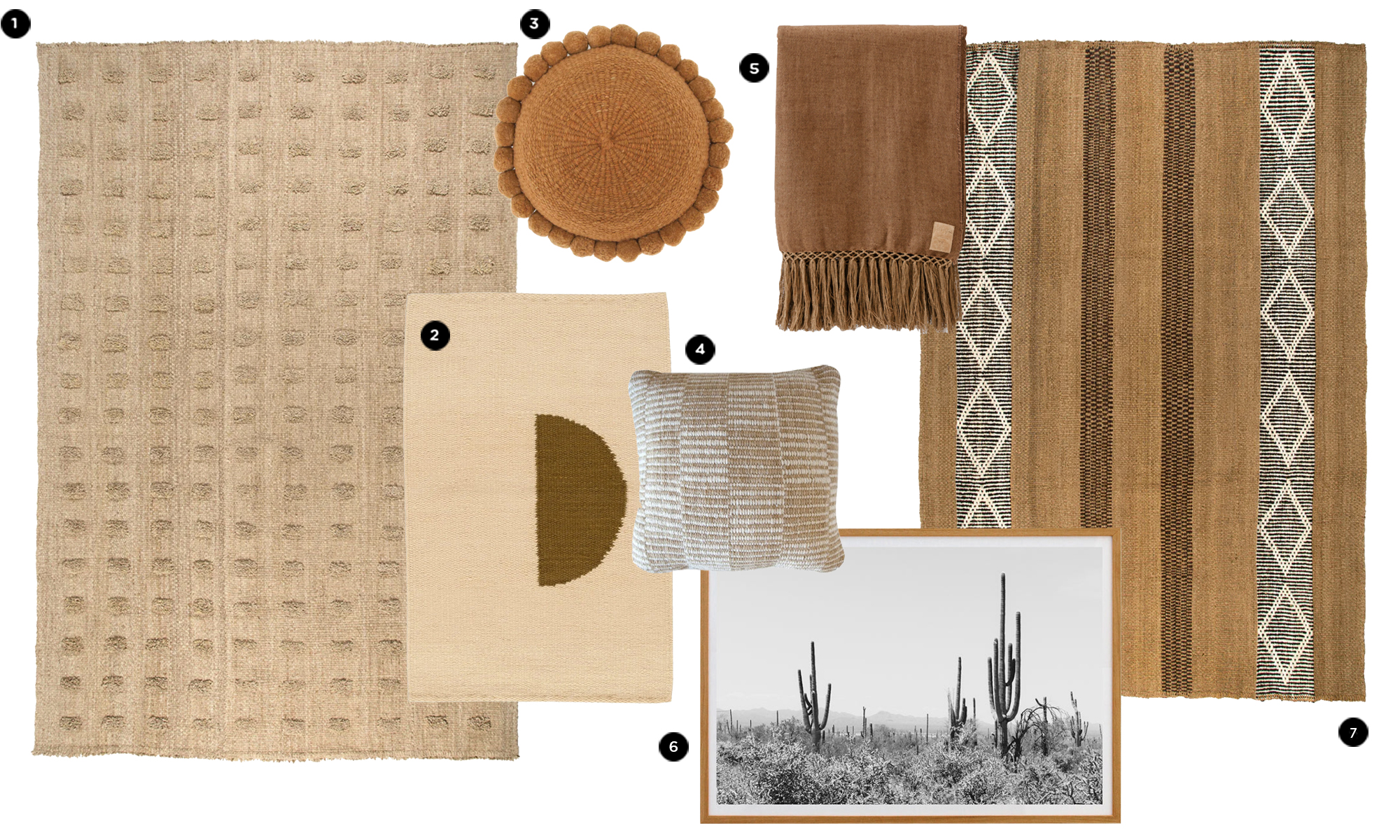 How has your relocation from New York to Arizona shaped and influenced your approach to designing and decorating your Southwestern home?
One of the biggest shifts we noticed when relocating to Arizona from New York ten years ago was the slower paced day to day and more of a connection with our surrounding environment. As we've settled into the southwest and started a family, we really embraced that shift and thrive off the calm nature of the desert. When we found our property in Tucson, we were completely in awe of the views and just felt an immediate peace here. We really wanted the interior of the home to reflect that, to be an extension of nature and let the outdoors in as much as possible.
The desert seems to be a significant source of inspiration for your home. Could you describe how the desert landscape and lifestyle have influenced your interior design choices?
When we first saw this property we were immediately attracted to the landscape with the dozens of towering saguaros surrounding us. It had a really calming energy that I was particularly drawn to, especially as a new mother at the time. I wanted to find a way to bring that inside as well and blend the indoor outdoor spaces. This was done with large windows, bringing in a lot of plants and using natural materials. Natural materials wear in a really beautiful way and in my opinion, just get better with time. I think that's something important to consider when designing a space. I tend to keep things tonal and on the more neutral side, but really enjoy mixing textures to create a sense of dimension, so your eye can dance and is drawn to various art or textiles or ceramics in a room.
Pampa rugs are known for their connection to culture and craftsmanship. What drew you to Pampa rugs when selecting pieces for your home?
We're always looking for unique pieces, and knowing that Pampa works directly with the artisans who create these textiles makes having each creation in our home even more meaningful. When you know where something comes from, it gives it soul and there's a story to tell that goes beyond just "being pretty".
Designing a home as a couple can be a unique challenge. What are some of your favourite collaborative moments together?
After a decade married and almost 20 years side by side we found ourselves in a very unique partnership together. After meeting as teenagers, we have truly grown up together, and thankfully our styles and tastes have evolved together as well. I think designing the family room together was the most fun. Our previous home as a 1930 Tudor, which for as charming as it was, many areas of the home were closed off from one another. With our family room, we really wanted it to be a place to gather with friends and family, so everyone could be together: cooking, playing, talking. We both felt passionate about the memories we wanted to create here, and I think when you start with how you want to feel in a space, the rest just flows.
At Pampa, our mission is to inspire intentional choices regarding home decor, ensuring that your space is aesthetically pleasing and aligned with your values. How has this concept influenced your decision-making process in selecting items for your home?
I was originally drawn to Pampa, because of their design aesthetic drawn from nature and stories they tell through each piece. Our values and visions aligned. It matters what we bring into our home, and it's something that's important for our son to see as well…everything from cleaning products and reusable bags to ethically sourced furniture and sustainably made rugs and pillows. We do the best we can and set out with the best intentions. It's clear Pampa has set out on that same mission.
In your opinion, what role do rugs play in the home?
Rugs can make or break a room. They are usually the largest piece in the room as well: the anchor. They have the ability to make a space feel cozy and inviting with a plush texture, or more playful and inspiring, with a fun print and tighter weave. I love how the Pampa rugs in our home set the tone for each space. In our Kiva room – Music room I just knew the Inés rug would be the perfect fit. It's an inspiring room for us: where we spin records in the evening and enjoy coffee and a favorite book in the morning. The design felt very 70s to me, which is a huge inspiration in our home and clothing style. Our living room is tied together with the Esther rug in sand. It is the perfect example that neutrals are in fact anything but boring.
Your photos always capture such incredible moments. Can you share the secret? Who's behind the scenes helping bring your creative vision to life?
Thank you! My husband, Robert, and I take all the photos ourselves. I love the shift in social media over the last few years, with everything a bit more casual…I think we've embraced that in many aspects of our lives. We would take photos everyday back when we started dating. We would joke it's because Rob has a bad memory. We genuinely enjoy documenting the day to day and taking photos to look back on. I think it shows through the photos we share online.
What does a typical weekday routine look like for you?
These days our weekday routines are a bit more hectic with our son in his first year of school, which has been a bittersweet adjustment for all of us. No matter what we make sure to enjoy coffee together as a couple, always have music playing, and have dinner as a family before heading outside to enjoy the Tucson sunsets.
Finally, home is a deeply personal concept. Can you share what "home" means to you?
After so many years traveling, where we would spend weeks at a time away from home, we have found peace in the stillness. It's something you just feel in your bones. After ten years in the desert it's easy to call this place home. It's where we feel safe, where we feel reenergised and inspired. I'm thankful to have a space to run around and be silly with my little one, dream with my partner, and find adventure right outside our door.
Photos: Victoria Aguirre