The Greenly Carriage is a slice of off-the-grid luxury, hidden away in the hills of South Australia. What Tara and Luke found as one man's junk in a local garage sale, blossomed into a design forward carriage filled with quirks, character and charm. This week's stay brings us back to basics, with a side of indulgence. A time to enjoy the morning light and subtle sounds of nature, urging you to spend as little to no time on electronics, and simply breathe in the sweeping views of the coast.
Images: Robert Lang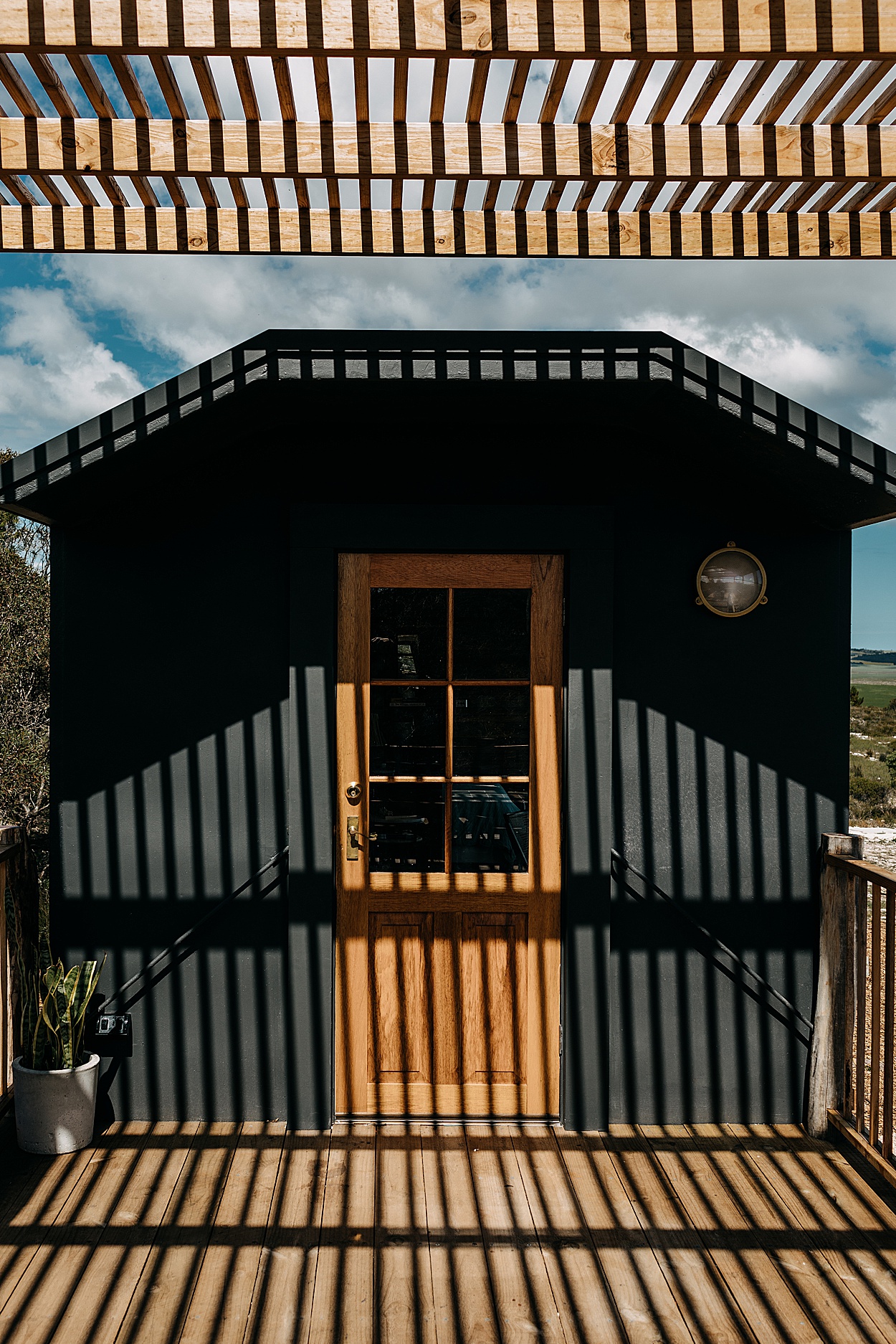 The Green Carriage has such an interesting back story! How did it come to life and what drew you to creating a luxury stay in a train carriage of all things?
Luke and I have lived on our farm on the rugged and remote South Australian West Coast for almost 7 years. We always had a desire to build a unique and sustainable accommodation option on our farm at some point. We are creative people and love a good project!
One day Luke found himself scrolling gumtree and came across a listing in the nearby tiny town of Coulta (195 residents) where someone was selling off a bunch of odds and ends. So we went along and found the carriage sitting in a paddock and snapped it up straight away for an absolute steal. We jumped at the opportunity. One man's trash!
It was in absolutely awful condition, but it had good bones and the original Oregon floorboards were intact. Through squinting eyes, we saw plenty of potential.
We admire your dedication to using sustainable, recycled and local products in your build and styling. Can you tell us about the design process?
For the interior, our goal was to repurpose and buy second hand as much as possible, and then add a sprinkling of special new pieces from our favourite interiors stores. We wanted an eclectic mixture of 'shacky' finds alongside a hint of Mid Century design.
We wanted the carriage to be filled with character and charm. To be a cosy, isolated, unique retreat with hand collected treasures to ignite and inspire conversation and creativity. When we have travelled ourselves, we were always drawn to unusual stays, rather than the usual run of the mill accommodation. We wanted our guests to enjoy soaking up the carriage's quirks, with each piece being a talking point. From the Carrot Cake recipe from @foodforeveryoneaus down to the nostalgic collection of National Geographic magazines.
We sustainably sourced timber for the interior cladding and the decking posts, which came from within 30kms of the carriage. Luke went along as they cut, craned, trucked the timber to us, with the cladding being milled nearby. Each and every piece of cladding Luke put through the thicknesser himself and then we oiled and oiled and oiled.
The process was so much more rewarding and so much more sustainably conscious than heading to the shops!
The Greenly Carriage is located on your stunning property, how did your family end up living there and is it a working farm?
Luke grew up in Port Lincoln and has been visiting the coastline here since before he could walk or talk. His parents often reminisce about fishing at Coles Point with him safely asleep in a sandy nook on the beach.
We met while studying at university on the Gold Coast where I grew up, during this time we heard a farmer was selling off 300 acres in the area and we made the decision to buy the land and move here. We've since built our straw bale family home here and share it with our three children, Japhy (6), Banjo (4) and Alby (1).
It is also partially a working farm where we grow mainly wheat, barley or canola.
If you had to describe the experience of staying at Greenly Carriage, which three words would you use?
Nostalgic, wild, serene.
What drew you to the Pampa pieces you have chosen for your space?
We already are proud owners of two other Pampa rugs and they are exquisite and simply timeless. So naturally it was our first port of call when I knew we needed a rug for the carriage! The style we chose for the carriage marries natural tones and texture so beautifully. I adore the brown and cream tonal panels.
The landscape is stunning! Did the location impact your design choices for the project? 
We wanted to build something that blended into the surrounding nature with a minimal footprint. The carriage is perfectly nestled into the native vegetation, but then there is a clearing which falls away in front allowing for the most mesmerising view of Mount Greenly, Lake Greenly and the Southern Ocean through the carriage's giant western facing windows. Hello sunsets over the ocean!
For a first-time visitor, what would an ideal 24 hours in Greenly Beach look like?
Our morning would start at dawn with a hike up Mount Greenly. After soaking in the view over the coast from 400m above, we head back to the carriage for a hot breakfast on the deck.
Then, we'd head to Coles Point for a refreshing bodysurf or surf and some beach time. We would then pop across to the famous Greenly Rock Pools. A must visit and just around the corner!
For lunch, we would head to the Minniribbe Pig Farm to have a browse through their antiques and enjoy a pork burger or some Elvis Presley pancakes.
Depending on how much you'd like to squeeze into a day, you could either relax at the carriage and sift through the endless reading material there or head to Greenly Beach or Frenchmans to try your hand at fishing, snorkelling or diving for abalone.
We'd finish the day with a Sunset Charter in Coffin Bay and a seafood platter at one of the excellent restaurants there.
Once you're all curled up in our cosy linen bedding after a busy day, we'd recommend sleeping with the blinds up. The South Australian night sky is an absolute wonder.
SHOP THE LOOK