For this Mi Casa we flew to Melbourne, where an extraordinary home stands as a testament to a unique aesthetic. Marrying creativity, inspiration, and a profound connection to nature, Tilly walks us through this captivating space she's made her home. From the visionary mind of architect Alistair Knox, who designed the home, to the embrace of natural fibers and the birth of her furniture brand, Monde Studio during lockdown, each element weaves a narrative that reflects a harmonious and nurturing environment.

SHOP THE LOOK
1/ Classica Made-to-Order Runner|Natural 2/ FORMA #2 Made-to-Order Rug 3/ Monte Lunbar Cushion #12|Sand 4/ Monte Cushion #8|Sand 5/ FORMA #3 Made-to-Order Rug 6/Curio Throw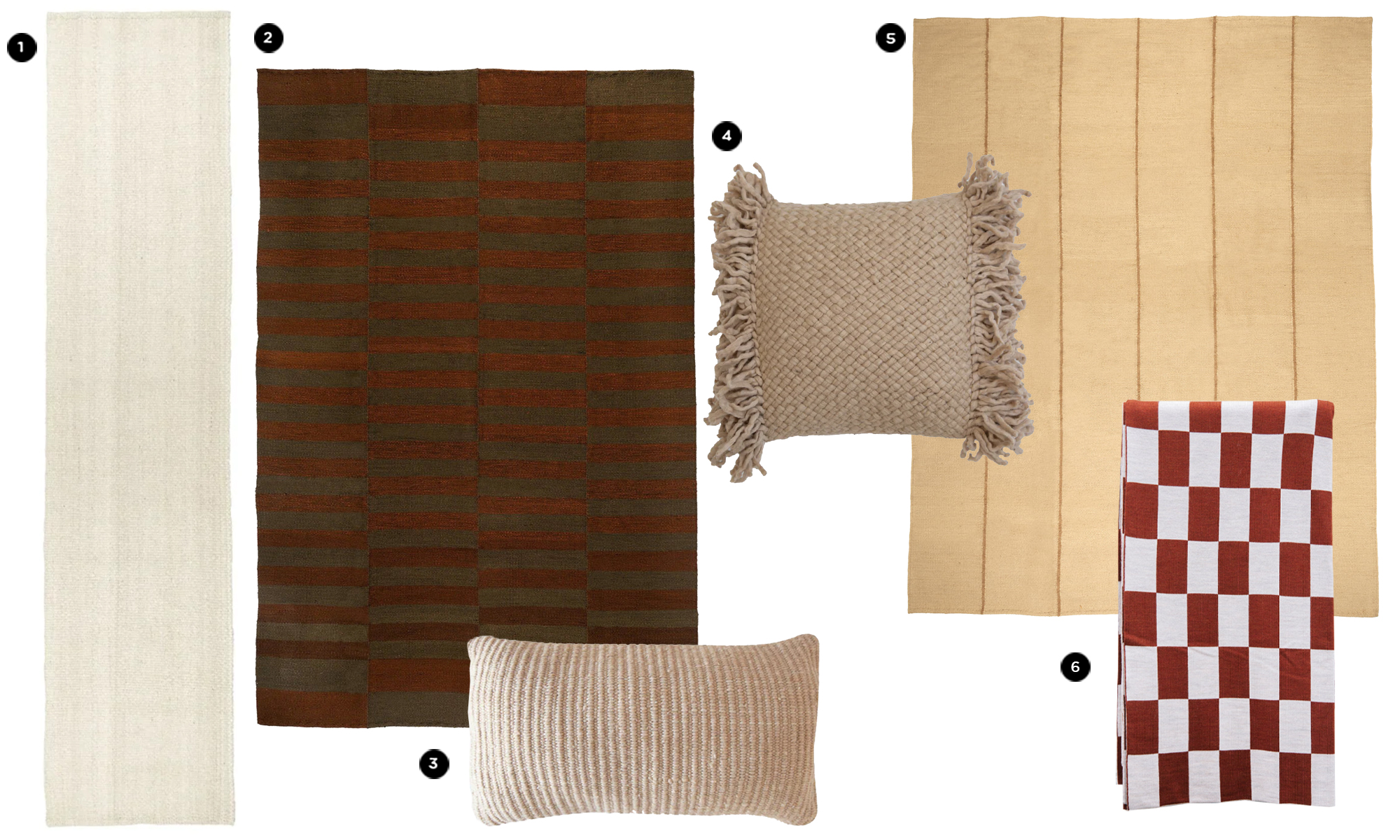 How would you describe your home style?
I don't know exactly how I would describe my home style as it seems to be a perpetual work in progress and constantly in 'Flux' depending on what I am inspired by or working on at the time somehow though, it remains relatively minimal as one thing comes through my doors normally another item normally leaves.
We noticed you have a unique aesthetic in your house. Could you share with us the inspiration behind it and the elements that make it special to you?
Oh Thank you, I am pretty experimental embracing trial and error. The process of it all coming together is pure enchantment for me. I am always restoring something, undertaking a new project or design, making new pieces of furniture or trolling the marketplace for curious things  and my house is full of material, objects, and furniture resulting from these pursuits. There's also a good amount of art, furniture, and lighting created by local talents and friends. Together, it is what makes the space personal to me – an extension of myself and the things and people I love.
What changes have you made to make the space your own?
I was very quick to disguise the faux terracotta tiles that had been laid sometime in the dark depths of the 90s with a combination of floating Sisal tiles and nice big rugs. Bringing a neutral tone to contrast with all the raw timber gave me a really versatile palette to work with when considering the furniture I wanted to bring into the space.
The architect of your home, Alistair Knox, is renowned for his distinct style that captures the essence of Melbourne. Were there specific design principles or features that draw you to his architectural style?
I really appreciate Knox as a builder/architect that practice was sympathetic to our surroundings. Knox homes can be easily identified through use of recycled materials and what was available to in terms of economical or natural resources at the time – there is also a through-line of modernist and what I can identify as reference to traditional Japanese architecture in a lot of his homes.
Given our emphasis on natural fibers, could you share your perspective on the significance of incorporating these materials into your home.
In my home sustainability is a constant conversation – when I like the look of something I like to investigate the potential to biodegrade, recycle, be versatile and have longevity or contribute to landfills. While I recognize that man-made materials do hold value and in certain applications and can be used sustainably – sadly there isn't a lot of infrastructure to support the recycling and reuse where man-made and natural fibres are combined. Undoubtedly, pure natural fibers, such as wool, emerge as prime candidates for sustainability due to their biodegradability and recyclability. This very rationale is why I actively promote and incentivise the use of pure fibres at Monde, and at home as it is just one of the easiest ways to reduce footprint.
Can you share with us one particular piece or area in your house that holds a special significance to you and the story behind it?
In my previous home, I discovered a very simple handmade oak table on the marketplace that reminded me of furniture by Donald Judd. Countless beautiful memories were created and shared in this space, particularly around that huge table. However, its enormous size made it unsuitable for my new space, so I had to reluctantly part with it. Quickly I decided that I wanted a similar, timeless 'Judd' style table for my new house. After searching for weeks I realised that finding exactly what I wanted affordably was impossible. This led me to the decision of making it myself. I used timber obtained from the old Goodbyes fitout in Brunswick, which I had acquired a few years earlier from a friend. Creating table in a more manageable size, the hope was that the table would translate in almost any space and with some luck on my side, it might withstand the test of time and continue into my son's home one day!
The Forma rug collection works so perfectly in your space. Tell us what drew you to this collection.
The rugs in the Forma collection appeal to me because they are both relevant and timeless at the same time making them complementary to almost any space.
As you started your furniture brand, Monde, during lockdown, we're curious to know about the design inspiration that fueled your creativity during those challenging times. How did the restrictions and unique circumstances influence your design process, and how have your inspirations and designs evolved as you've grown with the brand over time?
Monde originated as an exploration of design and manufacturing during one of the initial lockdowns, embarked upon alongside a designer and friend Lauren Haynes as a side hustle so to speak. It all started with the conception of a soft sculptural chair, which gradually evolved into a modular sofa system. This transformation was made possible through having a good chunk of time to invest, intensive research and the aid and expertise of some local fabricators. Covid definitely provided unique circumstances and a lot of spaciousness to consider the essence of what it means to be a designer in the midst of a pandemic and a climate crisis. Personally, I have always wanted to be a designer but felt contempt towards the idea of contributing to more waste, more landfill. Monde was not just a creation of a sculptural sofa, but also an endeavor for me to explore the possibility of responsible design. My new found involvement in the furniture manufacturing industry vividly underscored the profound impact this industry has on our environment but simultaneously, highlighted potential to significantly curtail this impact. It's evident that both consumers and manufacturers play pivotal roles in this endeavor. However, the initial impetus lies with manufacturers to conceptualize environmentally mindful products, proficiently trace and handle production waste, and contemplate the product's lifecycle from conception to disposal. 
Finally, as your house has undoubtedly been a significant part of your life journey, what does "home" mean to you, and how does your current living space embody that definition?
I don't know if I could be more of a homebody if I tried. Home has always been a place I can count on above anything in this ever changing world, I find a huge sense of security and comfort knowing that despite the things happening in the world around me, within the walls of my house, I can access a sense of safety or security, this seems to ultimately manifest as expression and creativity – a personal freedom. In this very capitalist, material world it's hard not to absentmindedly surround yourself with 'shiny things' because you are told you need them to be happy. I really try to recognise this and seek context, prioritising anything designed, made or found – because I really value the depth that comes from the narrative behind in the objects I am interacting with – overall this is what gives my space a certain warmth that I don't access anywhere else.