I have always admired how creative and capable Karla Rose is. She runs three businesses and is mother to two gorgeous little ones and still somehow manages to fit in daily swims and the time to pick up a brush and paint.
Karla is the co-founder of three Byron Bay businesses that we love, Zulu & Zephyr, millk and Sunday Supply Co. She lives in a small oceanside pocket called Suffolk Park, allowing her to feel a sense of spaciousness and a proximity to nature. We paid a visit to her home and learned more about her love of Byron Bay and how she juggles her daily demands whilst making time for herself.
What are some of the things you enjoy most about living in Byron Bay? Can you share with us some of your favourite places to go?
Every time I step away from this part of the world — be it for work, holidays or even a quick day trip, I crave the feeling of coming home. Byron just has that pull about it — it's a constant vacation. Life is effortless here and raising my kids feels right in what could have easily been a very chaotic time in my life, had I stayed in the city.
Most days begin with a Lighthouse walk, which after years of walking this same path just never seems to grow old. My family and I spend weekends at Broken Head or opt to escape the holiday bustle and head down to Lennox or East Ballina for even emptier beaches. Shelter is our little coffee stop if you're headed down that way, or Topshop and McTavish if you plan to hang around the Bay.
Where did you draw inspiration from when decorating and designing your Byron home?
My home is very much like my wardrobe; a clean palette, lots of staples, a touch of colour, plenty of texture and a few quirky bits thrown in for good measure. Since having kids, I'm slowly learning the art of decluttering to keep my space and head clear — with only the things I truly love in sight, this allows me space to think clearly and feel more balanced.
Do you have a favourite corner of your house? Why do you love it?
I love every pocket of our house. Our home is communal — we spend each meal around the dining table, surrounded by things we've made or collected along the way… Most afternoons are spent lazing in our living room… full of natural light — a wide open space, looking onto a nature reserve. It's so peaceful and quiet.
Describe your experience of motherhood in 5 words.
Real, Spiritual, Crazy, Challenging but completely Fulfilling. Like, out of this world full.
How important is work-life balance to you? How do you strive for this, do you work from home often?
I am first and foremost mum to my two kids — Mini (3) and Ruko (1). At any other given moment, I am juggling three businesses.
Each day comes with a new set of challenges and ultimately, every day I am striving to find a balance. Sometimes I get it right, other days I really feel the weight of work and trying to consciously parent two young children. Those later days often end with me working way too late into the night and paying for it the following day. I've learnt to be on my own time, try my best, be kind to myself when I don't get it right — to remember there's always tomorrow.
We love your paintings! Have you always painted? How would you describe your painting style?
My love for expression began from an early age… My grandparents were ceramicists, and Grandma was a great painter. Day to day life was spent watching mum sew or gardening. Speaking of which — mum is such a colourful person with an eccentric nature — she really taught me that life doesn't have to be just black and white. Painting is just a great form of getting real and I love the process and the journey it takes you on…the frustration… the break through, then the "a-ha" moment.
What does painting give to you? Do you have any other creative pursuits?
Painting gives me freedom to step outside the box. It's a state of mind that I enter into where it's just me and nothing else seems to exist… I get so "in my head" and focused on it that it's my escape from reality in a liberating way.
I am generally interested in all creative pursuits! I could watch any artist perform their craft for hours on end, I'm just mesmerised by the act of doing.
I find gardening such a peaceful act. Just watching something come to life, to grow right in front of your eyes and to feel the dirt under your nails…It may not be "creative" so to speak, but it really keeps me grounded in my creative day to day living.
Did you always know you wanted to have your own business? You've built more than one successful business now, can you tell us about the projects you have going on at the moment?
I always liked the idea of living life on my own terms and having the flexibility to work really hard but to also pull back and slow down when I needed. It's never been about making millions of dollars — that still isn't even part of the plan. It has only ever been about feeling limitless.
At any one time, I have three things on rotation. Zulu & Zephyr is my baby and I love it dearly. It really is just an extension of who I am and not a day of being in it, feels like work. Sunday Supply Co is my partner's business, which I have a hand in… I just can't take a back seat so I've thrown myself in there. And last but not least, what was originally a passion side-project turned phenomenon – millk. It is fun working on something that can be more playful and has a lot more room for exploration and experimentation.
What sort of things do you to rejuvenate when you have the time?
Daily, I walk in the fresh air and get plenty of sunshine. I also try to be conscious of screen time so that I can make time for switching off and being fully present. Each month I always make time for a facial at Little Company…it's mind blowing. We try to take two holidays a year, preferably where the sun is hot and the sea clear.
What's next for you?
We just purchased an old 1970's beach shack holiday house, 40 minutes North at Hastings Point. So I can't wait to work on that project.
Words & Photos: Victoria Aguirre
KARLA'S FAVOURITES
1/ Monte Rug #0523  2/ Monte Pom Pom Cushion #1  3/ Litoral Woven Bag #0229  4/ Cristina Rug  5/ Monte Rug #0772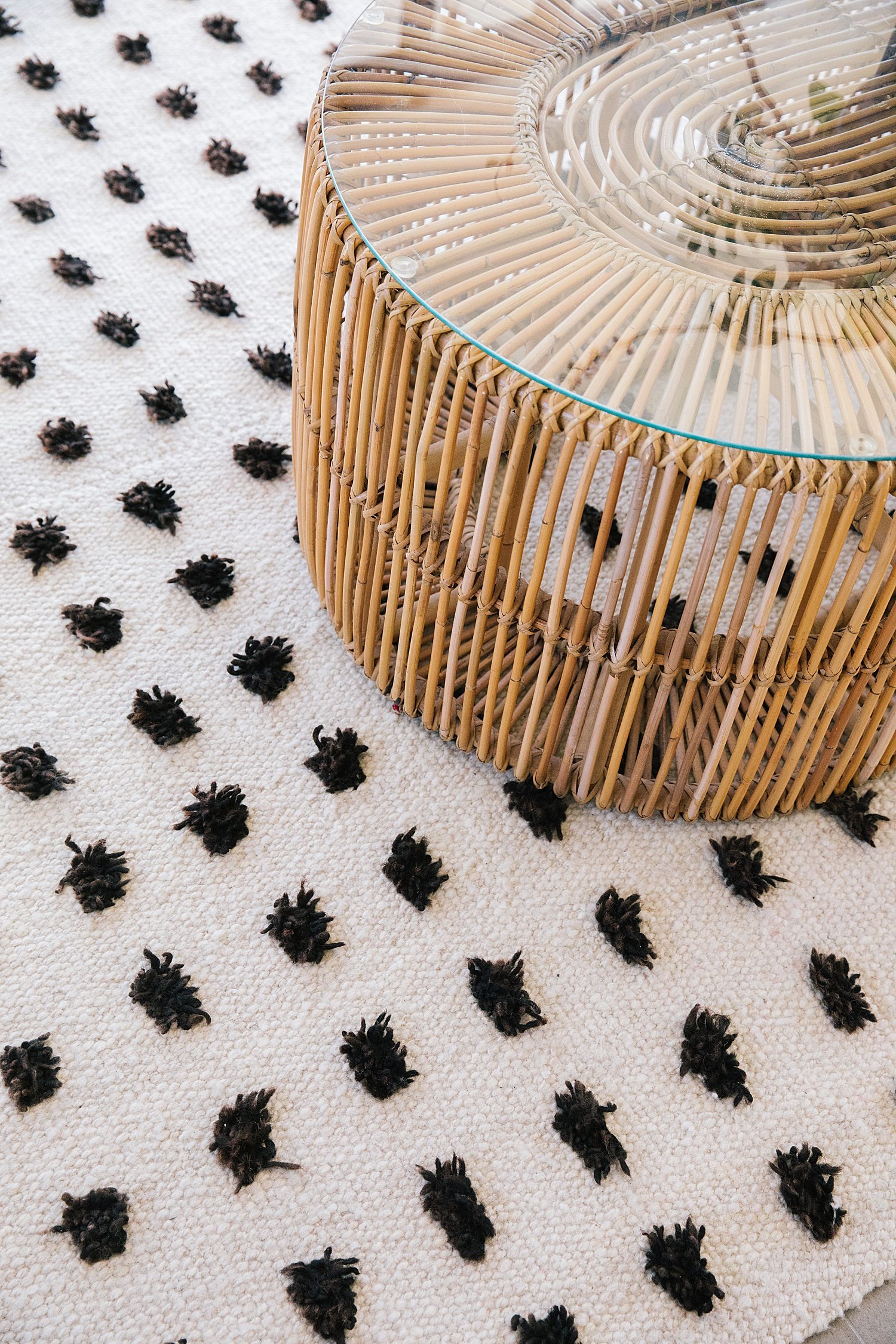 *All images & words are copyright of Pampa, for any kind of use please contact us at hello@pampa.com.au for permission.