We sit down with writer Anna Harrison in her inner-city Sydney town house, to discuss all things creative process, art imitating life and a love for her city which has evolved and changed over time but not waned.

SHOP THE LOOK
1/ Forma Runner #2232 2/ East Coast #1 Fine Art Print 3/ Andes Lumbar Cushion #4 4/ Suncho Rug #2626 5/ Andes Mini Rug #13 6/ Monte Cushion #8 7/ Australian Sandalwood 8/ Everyday Dish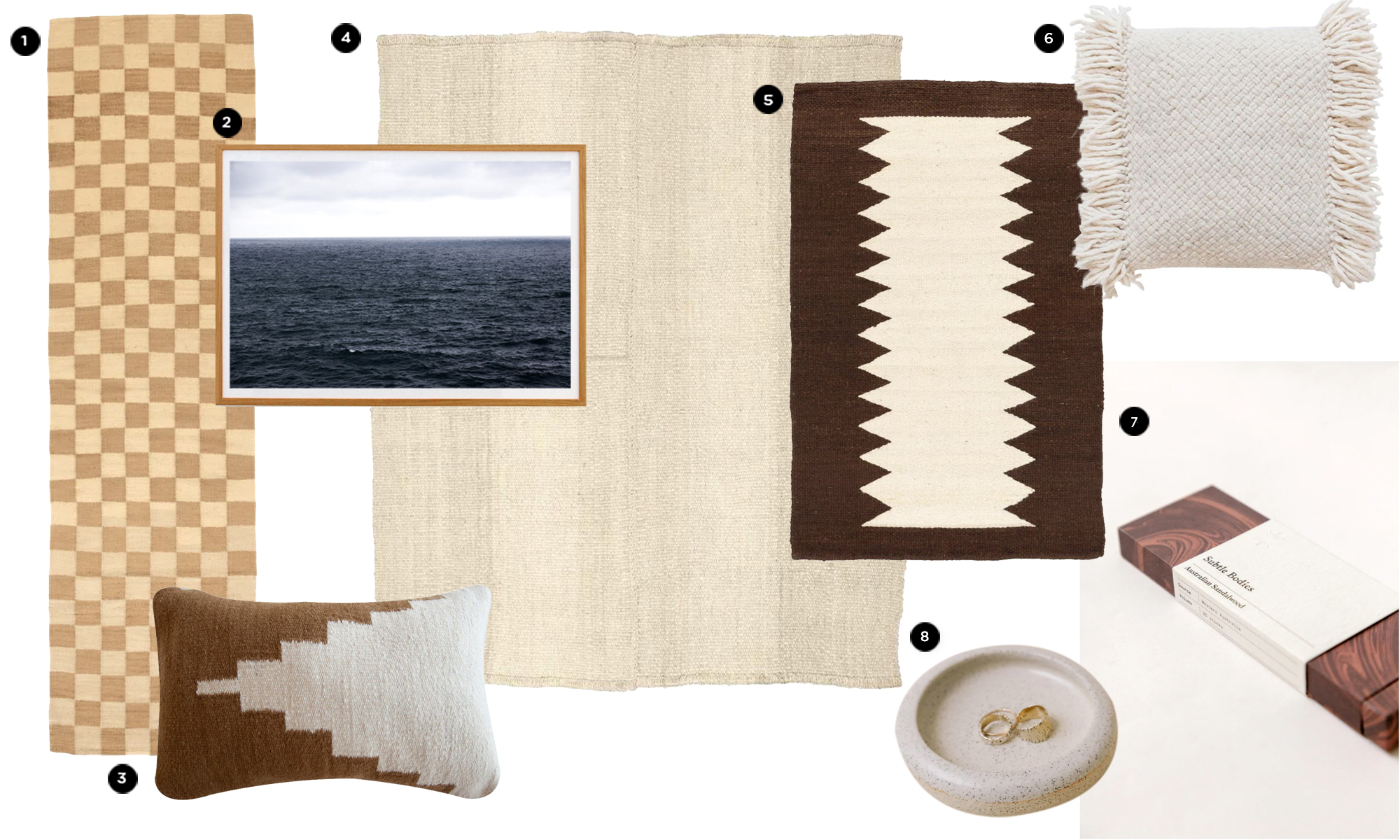 What does home mean to you?
 A place in which, or a person with whom, you feel safe to completely unravel.
 You have beautiful Pampa pieces, what drew you to these?
Beyond their beauty, they tell a story. I'm a bit of a minimalist, I don't buy a lot of stuff so if I make a big purchase it has to be meaningful as well as aesthetically appealing, to be made well enough to last a long time, and have an ethos behind it that feel resonant and authentic. My Pampa pieces tick all of these boxes and really contribute something to the environment – they add a warmth and texture that makes the space feel calm and cosy.
Can you tell us about your journey into a career in writing and what influenced this?
That's probably a longer story than anyone has time for, but the abridged version is that writing is something I began doing reflexively, intuitively, and constantly from the moment I learnt how to form a sentence. As a kid writing stories helped me to make sense of a world that fundamentally didn't make sense to me. It gave me a means of ordering and expressing the emotionally fraught experience of being human. It wasn't until my mid-ish 20s that I began writing professionally – it took me that long to even consider writing as a viable career option (still questionable) and then build enough confidence to start putting my work out there. Words of Note was born shortly after my child, and much like him is evolving in interesting and unexpected ways.
When it comes to writing, how do you create a space that fuels creativity?
I always have to remind myself that fuel for creativity is usually found away from a desk and a screen. Taking the time to be around people, be in nature, consume art instead of social media, and experience different environments, opinions, smells, tastes and feelings, are all sparks that light the creative fuse. We have this distorted view of productivity in our culture that says if we're not producing or "doing" something that might directly result in some kind of professional gain, we're wasting time. But if I spent my whole time writing, what would I have to write about? The actual 'doing' aspect of creating something is secondary to whatever drove you to create in the first place. That's a long way of saying I think we should all take the day off once in a while and do something that lights us up inside, which might inturn make the quality of the actual "work" better.
Writer's block is real, tell us how do you deal with a lack of inspiration?
Not well. Usually total avoidance, which is not a great strategy. I mindlessly scroll instagram, visit the fridge 3000 times, if it's hot I'll go to the beach because "vitamin D", annoy a friend with dumb memes, watch people bake cakes on Youtube. Eventually the doom of an approaching deadline will induce a state of mild panic and I'll be forced to write something, anything, until the juices start flowing again. If anyone knows of a better way of dealing with writers block, please let me know.
What do you enjoy most about living in Sydney? Can you share with us some of your most treasured city experiences?
I have a lot of love for Sydney. If it weren't the most expensive place to live on planet earth, I'm not sure I'd be able to fault it. I spent my reckless 20s living by the beach in Bondi and you can't beat leaving the house in your swimmers at 11am and returning at 3am – salty skin, wet hair, a little burnt, a little drunk, having made 20 new friends, swum under a full moon, and left your shoes under a table somewhere. Nowadays just being able to take my kid to a half empty beach on a clear blue day, a mere 10 minutes from a teeming metropolis, is enough to sell me on this town over and over again.
What can you share with us about your experience of motherhood?
Again, this could be a dissertation, but in short: ALL THE FEELINGS.
If you had all the time, what you would like to do more of?
So many things. I'd definitely get out of the city and spend more time in nature. Host elaborate dinner parties that I've spent all day preparing for. Eat cake and write poetry in my pyjamas on a weekday. Hang out with friends like we used to when we were 14 – just eating chips and laughing on a couch with nowhere to be. Wandering around lush gardens admiring sunsets. I feel like I'd make a great 18th century aristocrat.
Tell us the most memorable project you have worked on?
It's hard to pick one, but in terms of creative projects I'd say a book of art and poetry called Time Runs in and Then Runs Out that I worked on a few years ago with one of my close friends, Jedda Daisy Culley, who's an incredible artist. Jedda sent me images of the works she wanted to include in the book and I essentially translated what I was seeing into poetry. It was one of those collaborations that felt like magic. The words fell out of me as if I had almost nothing to do with them. Every now and then, when I have a good enough muse, my writing flows almost entirely intuitively with very little intellectual input – nothing beats that's feeling. The process was so raw and real and spontaneous I didn't even care what anyone thought of it (rare for me – still trying to overcome a lifelong fear of judgement).
With already so much accomplished, what's next on the horizon?
My ultimate goal, with Words of Note and otherwise, has always been to constantly explore the outer limits of how language and story can be used creatively to shape and impact our world. At the moment that intention manifests primarily through making art with words and storytelling for brands and publications, but I think the single most powerful strategy for change on an individual and collective level lies in re-writing the inner narratives that forge the blueprint for the lives we create on the outer. I'm currently getting trained up in a couple of modalities that will hopefully help me master this for myself so I can eventually help others do the same.
Learn more about Anna here
Photos by Victoria Aguirre