Introducing our new candle holders, the perfect match for our earthy-toned beeswax candles, inviting you to decorate your home or special event with style.
Today we meet with Andrea and Jazmin of Obra de Mano in the city of Buenos Aires, which is fast becoming a hub for Argentina's emerging creative scene, to discuss the making of their ceramics. We chat about their dedication to sustainability and how their creativity with clay brings people and moments together.
SHOP OBRA DE MANO CANDLE HOLDERS

Your products are something that brings people together, creating an ambience that can make a space feel homely and calm, tell us more about your adventure and what drew you to the practice of ceramics.
We are a ceramic workshop in the City of Buenos Aires, formed in 2018 by Andrea Kuczer and Jazmin Vari, both architects and potters. In addition to dedicating ourselves to the practice of architecture, we develop pieces of utilitarian design in the workshop, we experiment with the material and its possibilities. We started working with clay as a way of being a part of the whole process of production and design in opposition to architecture where the process is long and with many parties involved.  As ceramists we produce works, teach classes and develop pieces in conjunction with different chefs, artists, art directors and designers.
Explain the process and materials used to create your candle holder…
In our workshop, we work with stoneware clay baked at 1200 degrees. We experiment with the plasticity of the material when wet and all its forms. For some pieces we explore making moulds out of plaster and other materials, utilising them to craft ceramics using clay in a liquid state. We pride ourselves on being an independent enterprise, using local and sustainable raw materials.
We love your earthy, neutral tones; what inspired your calming aesthetic?
We love developing new designs using local materials. We have a particular way of approaching materials, usually making models with different techniques and then casting it into ceramics. Because of our background in architecture, we tend to make utilitarian pieces, with a simple and modern aesthetic.
SHOP THE LOOK
1/ Andes #10 Mini Rug 2/ Candle Holder Pinched | Cream 3/ At Home In Joshua Tree 4/ Eclipse #8 Fine Art Print 5/ Beeswax Taper Candle Set | Golden 6/ Candle Holder Pinched | Terra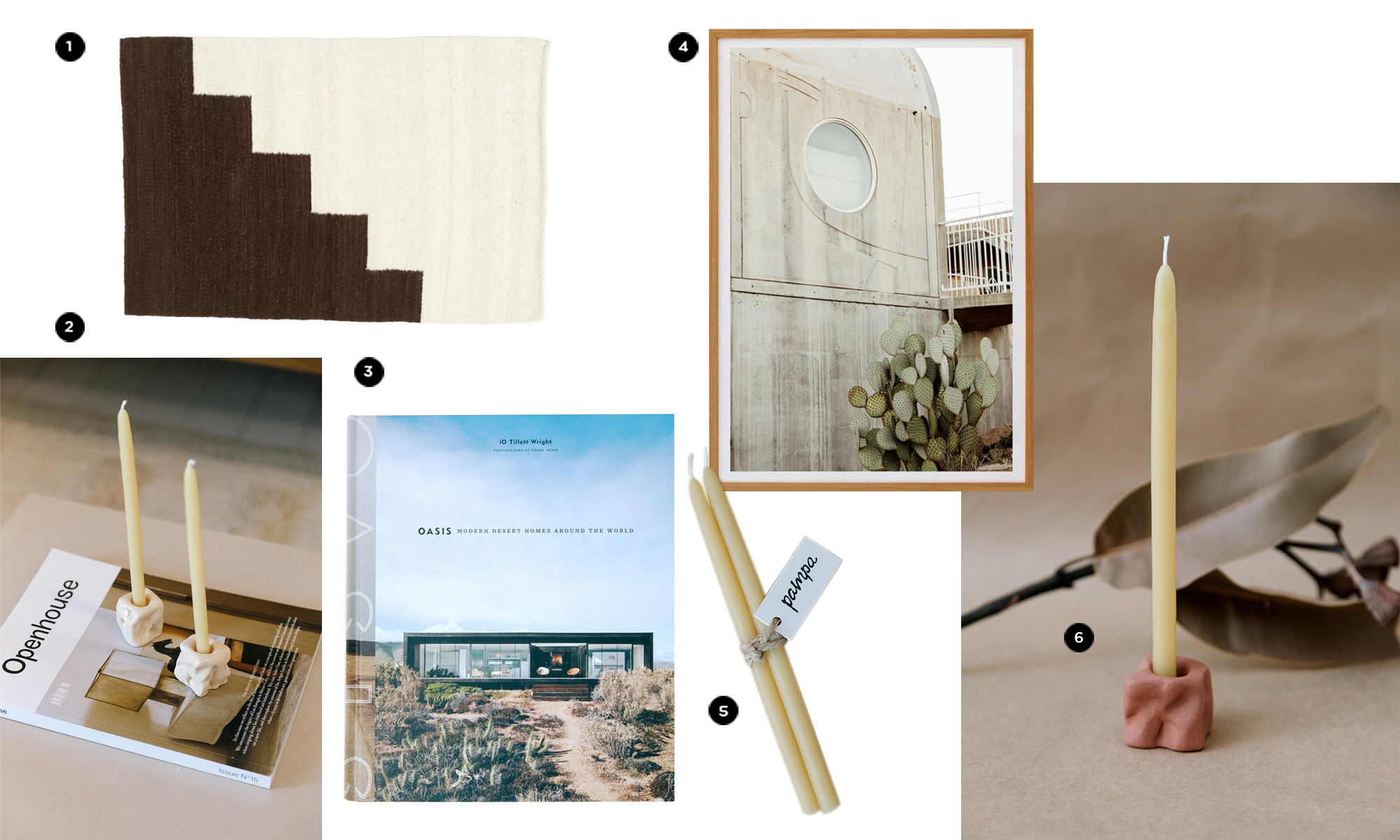 SHOP OBRA DE MANO CANDLE HOLDERS
*All images & words are copyright of Pampa, for any kind of use please contact us at hello@pampa.com.au for permission.
Photos: Victoria Aguirre