Today we take you behind the lens of photographer and author, Anouk Krantz. As a long time admirer of her work we are so excited to share with you her inspirations and some exciting projects on the horizon. Anouk is the author of West: The American Cowboy which highlights community and culture within the ranchland. We were drawn to her eye for bold black & whites as well as the beauty of the West and the natural elements surrounding them. Hope you enjoy this feature as much as we do.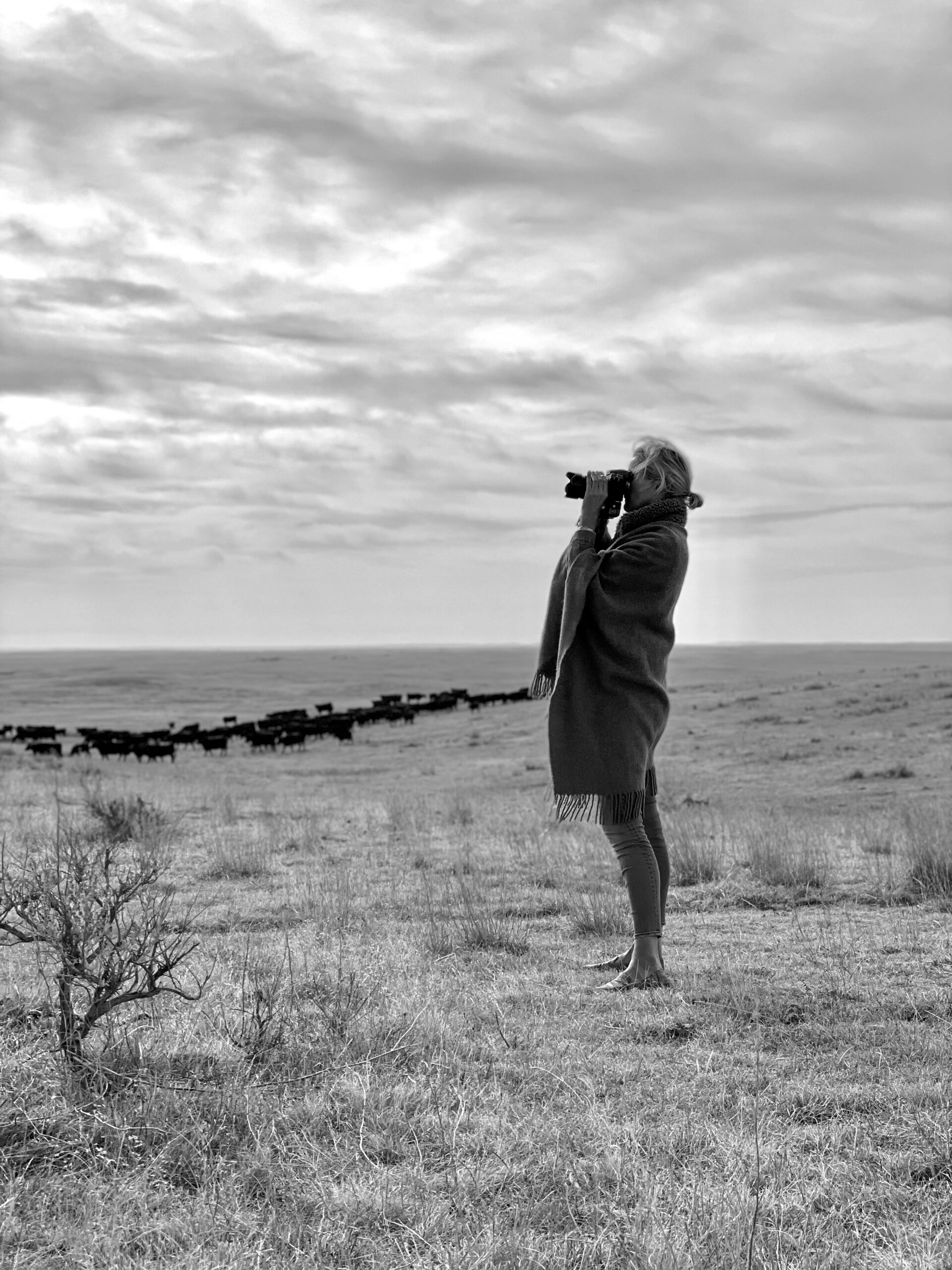 You are originally from France, when did you make the move to the US?
I moved to the NYC in 1999. I was young, single and new to America.  New York City was a vibrant, diverse and fun place to live and start a career.  I loved working for a lifestyle magazine as well as for Cartier in NYC.  These jobs had a lot of allure and embodied style, timeless elegance and sophistication which later on helped me shape my photographic style.
We love your book West: The American Cowboy, what was the inspiration behind this? 
Thank you! In this fast-paced, interconnected and competitive world that I live in back East, almost everyone is simply out for themselves. Over the years it has been increasingly evident that across America, there are fewer and fewer shared values that tie us together as a community.
I was always intrigued by the notion of the Wild West and the American cowboy. There is a strong sense of community that continues to endure, uncompromised and out West I feel as though I am part of something larger than just myself.
I wanted to see the vast rolling hills and expanses of ranchland underneath these enormous skies that I had heard and read so much about. The dramatic landscapes of the American West evokes a sense of freedom, independence, and endless possibilities which have long captured the imagination of people all over the world. I wanted to find out what life was like for those who lived and worked there.
I travelled out West for the first time in 2004 and came across my first local rodeo in a remote area of Kansas. It was uplifting to see how ranchers and farmers from far away took time out of their lives to come together and celebrate their country, their traditions, and the remarkable culture and community that they all support in their own way, each and every day. They may have their own differences but the one common thread among all Cowboys across this country are their values.
After this first experience, I always had an itch to return and learn more about their way of life because to my surprise I had learned for myself that the Cowboy Culture was very much alive. This makes them not only relevant but critically important to our country and to humanity, and every bit as intriguing as the many other cultures that more frequently capture the attention of the art world.
Your photographs portray the cowboy culture and their connection to horses in a very real and natural way, can you expand on this?
Growing up in France, riding taught me so many fundamental skills such as independence, discipline, empathy, trust and compassion, all which led to my own development of confidence. It has served me to this day and enabled me to challenge myself as a photographer. Horses have the ability to connect and bond with humans. They have a unique sensitivity and can understand our emotions. They are incredibly smart and loyal. A Cowboy and its horse are a team. They always work together and it's incredible to watch.
When did you first explore the art of photography and what inspired you to do so?
I love to explore new places – having travelled all my life, I have learned that the more difficult places to reach often yield the richest rewards.
I love to explore people.  I love to exchange with those who are different, those with another set of convictions. I try to learn about them and then to understand them, what is important to them, what they love and what they fear, so that I might learn what makes us different and what makes us the same. This is how we can open ourselves to the possibility of discovering and creating unknown, undiscovered inspirations of our own.
More often than not I am surprised to find out that my preconceptions are completely unfounded.  This natural curiosity is what makes me tick.  Black and white photography is the best way I can share my explorations and convey what I've learned.
In 3 words how would you describe the American West…
Freedom. Land. Together.
What was your favourite place to visit and why?
I have driven tens of thousands of miles across more than a dozen states but don't have a favourite. Each state is different and beautiful in its own way and is home to inspiring landscapes and people.
See more of Anouk's work here


SHOP THE LOOK
1/ Porteno Weekender Bag   2/ Puna Tobacco  3/ West: The American Cowboy  4/ Puna Poncho